Isla Holbox, Mexico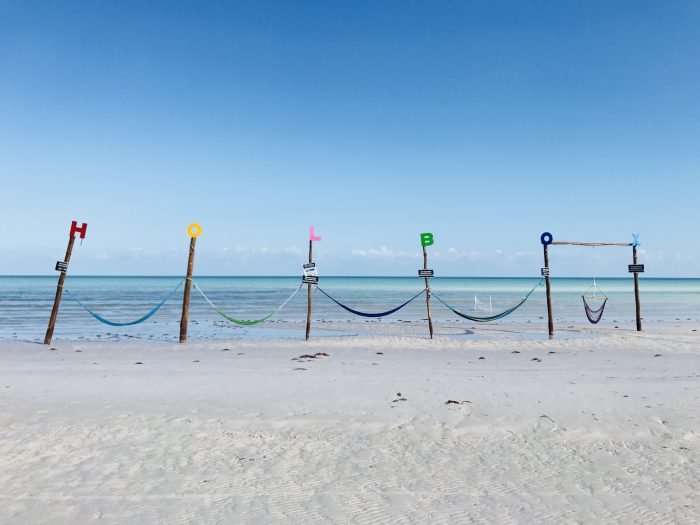 Traveling to Isla Holbox (pronounced hol-bosh) felt like going back in time. Our journey began in Merida, where we drove roughly 200 miles to the tiny, coastal town of Chiquila (~ 2.5 hours from Cancun.) From Chiquila, we boarded a ferry for a quick half-hour cruise to the island. Cars are obsolete on Holbox so we left ours behind under a shaded lot (locals rent these spaces out for under $10 a day.) I knew very little about the island prior to traveling there and for this reason my expectations weren't high. In hindsight this naivety was a gift. Isn't it wonderful to be pleasantly surprised, if not fall in love when you least expect to?
The moment we arrived, I knew we had found something special. Stepping off the ferry with bags in hand, we walked to a golf cart and drove on sandy streets to our home for the next few days. We loved Casa Las Tortugas for its central location. This beach front hotel is intimate and charming and has a lovely pool, a nice restaurant, plus daily yoga classes and a spa with all kinds of healing treatments (hello quartz bowl therapy!) My favorite details were the adorable skiffs-turned-day-beds set out on the beach – a perfect way to spend an afternoon, with book in hand. Should Casa Las Tortugas be reserved, I've heard great things about Casa Sandra.
Over the course of our quick 2-day trip, I most enjoyed my early mornings on the beach, walking alone on the long stretches of sand and surf. Most places I've visited in my life have felt crowded, pleasant in their popularity, yet found nonetheless. Isla Holbox is something else entirely. In addition to its pure, earthy lifestyle, what struck me most about Holbox Island was its quiet, unspoiled nature. Very rarely have I experienced such outer calm and inner stillness.
Next door to the hotel, there was a very fun restaurant and cocktail bar called Luuma, where they cook with only local, seasonal ingredients. You can walk there barefoot, as you can most places on the island. There is also a cool outdoor shop called Le Bazaar, which has a mix of vintage finds and chic, beach essentials. I bought a super versatile black fringed dress there and have since worn it everywhere from seaside vacations to black-tie galas.
As for meals, some of our favorite places ended up being the hole-in-the-wall cevicherias and restaurants serving fresh lobster pizzas. Walk along the beach or into the main town square and you will find plenty to choose from.
Up and down the streets, sandy seashells, coral fragments, and shell chandeliers were laid out for sale. Today, I kick myself for not bringing one home. Alas, these pictures and the memories therein will remind me of this salty, slow-paced island and the special times shared with the one I love most.