Q&A with Peter Bellerby of Bellerby & Co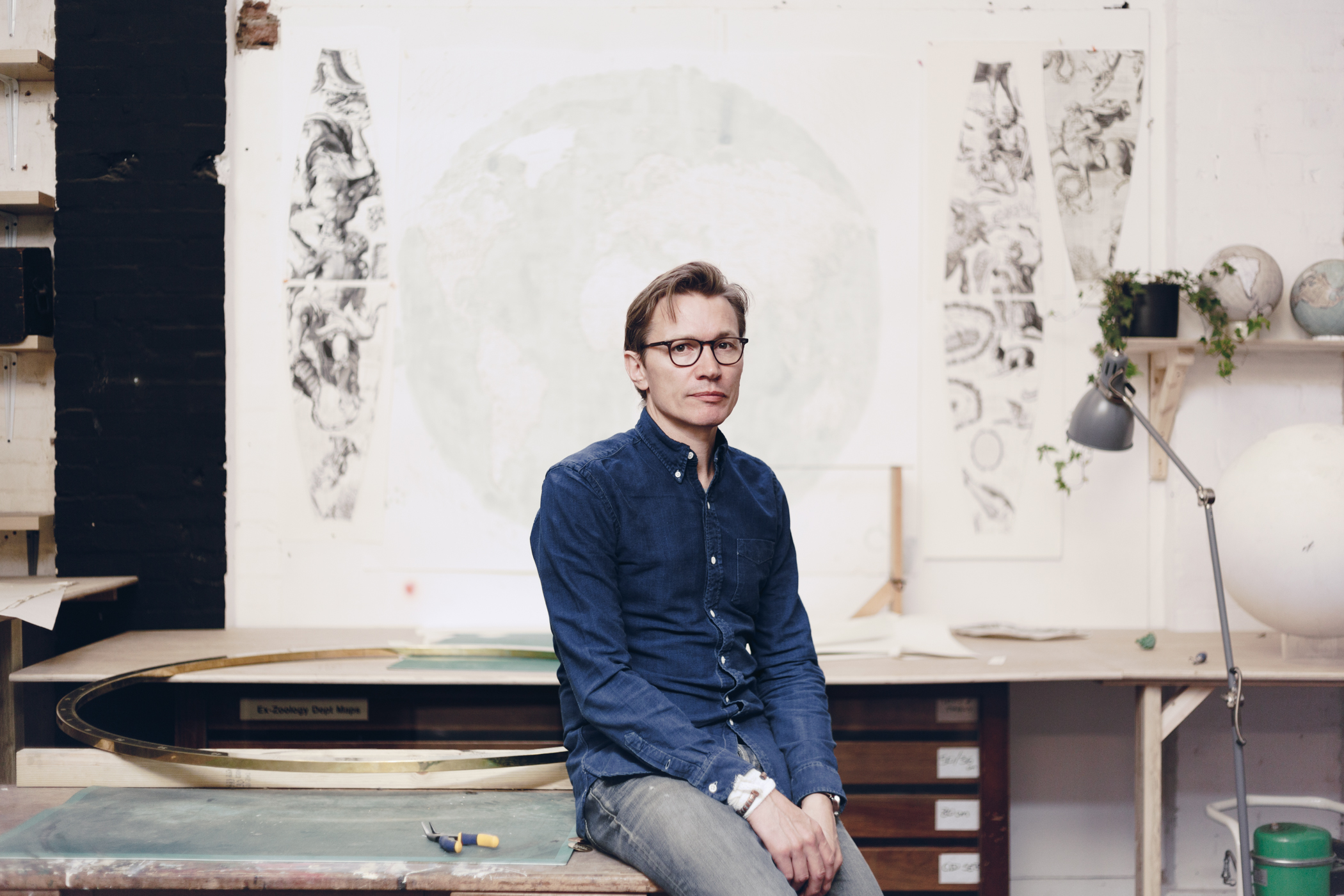 I've always been drawn to nostalgic things. Hand-written notes sealed with wax, Venetian intaglios carved in glass, and 18th century botanical posters of flowers, berries, and trees… these are a few things that stir my soul and remind me of another time. A well-loved globe is another nostalgic treasure, particularly in our age of GPS and Google Maps. Interestingly, there are very few traditional globe makers still working today. Peter Bellerby and his team of painters, engravers, woodworkers, and cartographers at Bellerby & Co in London are one of the last remaining globe makers in the world to make globes by hand in the traditional style. Since the 1400s, globes were made by etching the map onto copper plates, gore by gore, and sending them through a printing press. (Gores are the surfboard shapes that cover the surface.) The fragile paper gores would then be taken, wetted, and stretched across the shape so they conjoined precisely so. This process takes the utmost care as the paper can easily rip, tear, or bubble. Bellerby uses modern printers but the rest of their process remains the same, unchanged over centuries. Every Bellerby globe is also hand painted using hand-mixed pigments, so no two are ever alike. Most interesting are the bespoke globes that Peter and his team make for clients all over the world, colored with special symbols and messages that tell the owner's story. The company just released their first Moon Globe with the lunar landing sites along with a Silk Road Globe illustrated with spices, landmarks, animals, and people. I had the pleasure of working on two stories about this company, one for American Way (American Airlines in-flight magazine) and the other for The WSJ Magazine. This year Bellerby is collaborating with Mr. Porter on a line of Mini Desk Globes. While their bespoke globes have a lengthy wait list, these globes are ready to ship, each made with love and care. Below, you will find my interview with Peter Bellerby. I hope you enjoy his work as much as I do.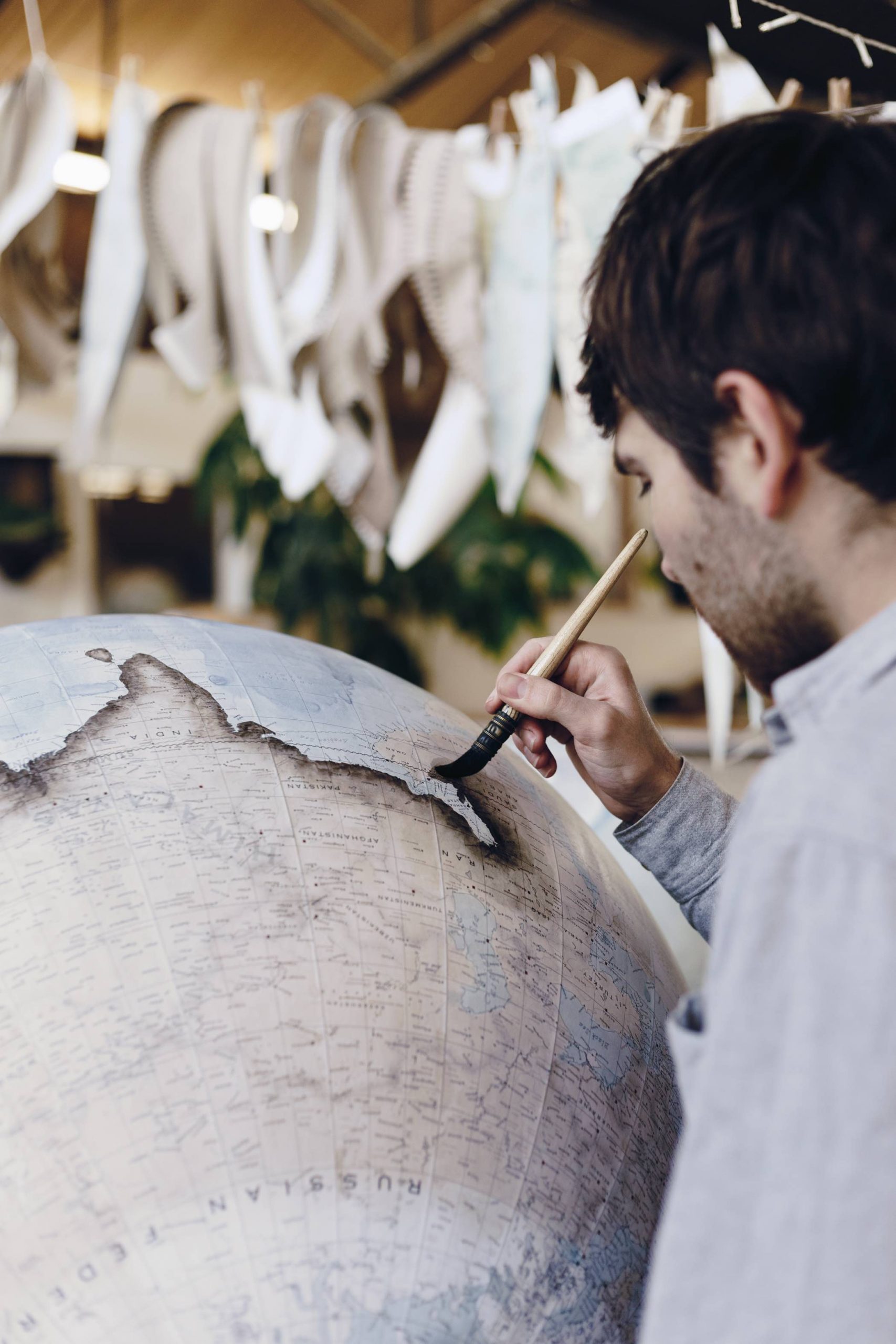 1. What is the most rewarding part of your job at Bellerby & Co Globemakers?

Receiving photos and letters from happy customers around the world has been something that really stands out. We work with customers over months, if not years. Helping them match colouring to their home and going through their family photos and stories of their favourite travel. So to know the globes have arrived and they have taken the time to send us an email or letter is really lovely. I also really love that I can employ talented artists here in London and teach them all I know – and equally learn from them.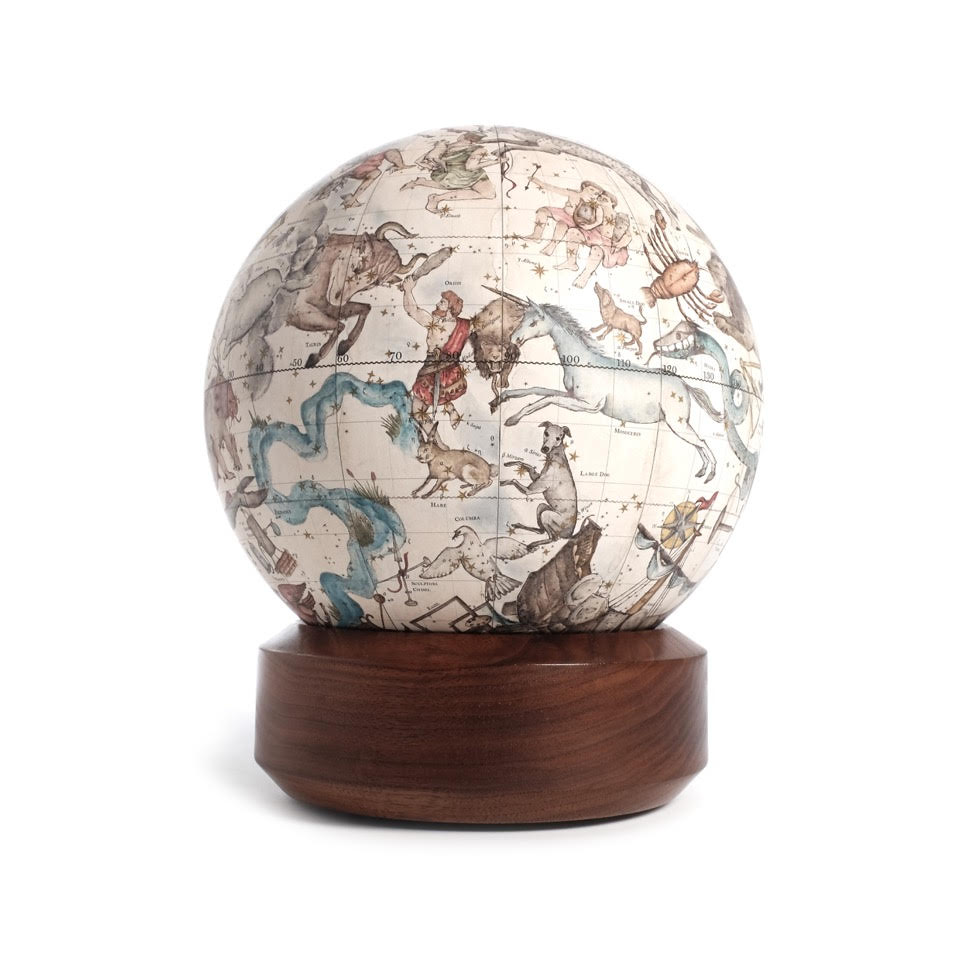 2. What is the most challenging part of making a globe from scratch?

For me it has always been making a new size (we started with one and now make seven.) It throws up all sorts of new and unexpected challenges. We are always fighting Pi. Every change has to be divided by 3.14159…. .. which makes the whole process more complex.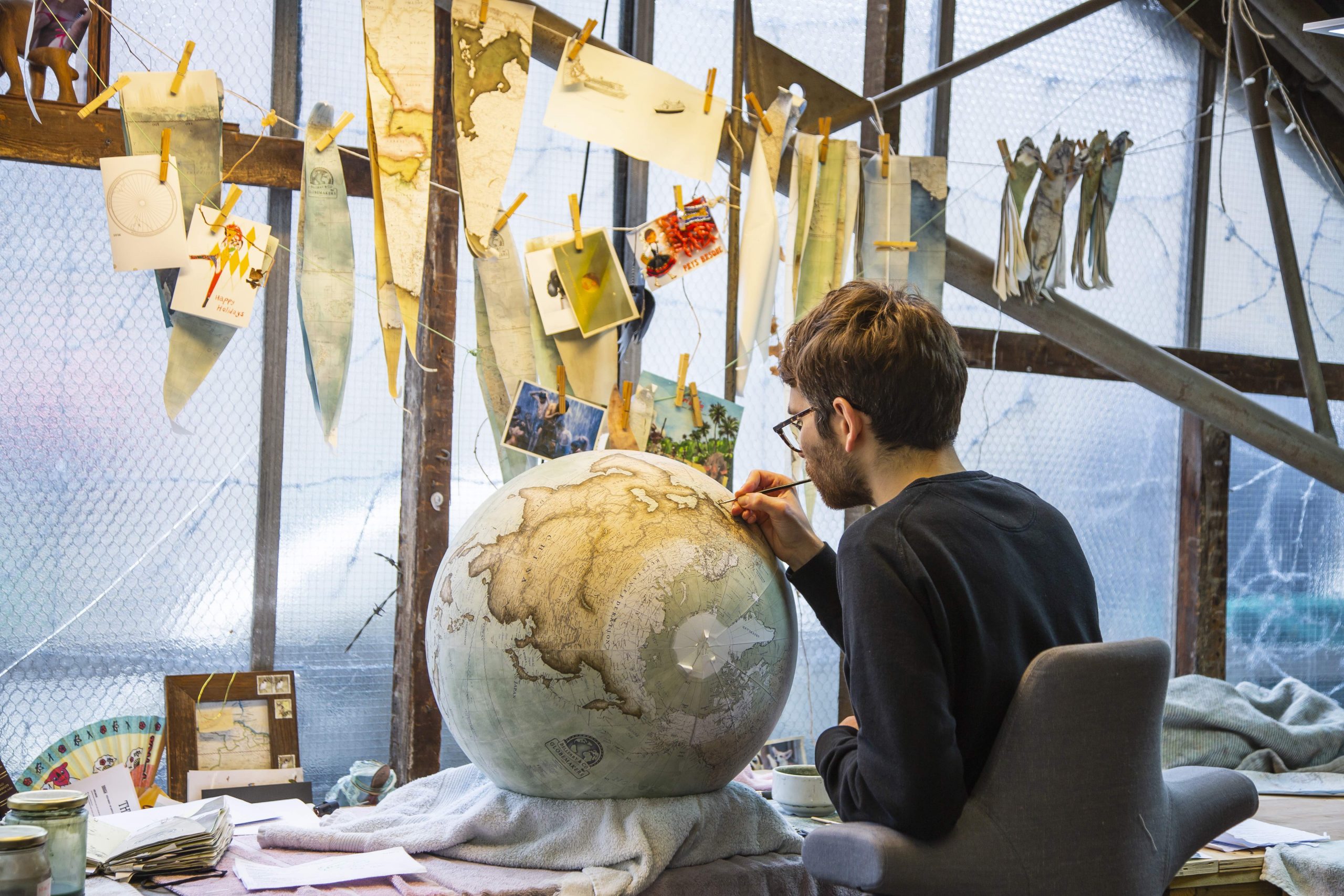 3. I understand your company was born after looking for a globe for your father's 80th birthday. When that proved unsuccessful you made your own. How did you decide on a globe in the first place?

My father worked as a Naval Architect so it seemed like a natural thing to gift to him. However it was also determined by the fact that having bought shirts, ties, socks, whiskey, wine for 65 years … a more interesting change was required. I always loved maps and studied geography but never thought there was a profession ahead for me in it.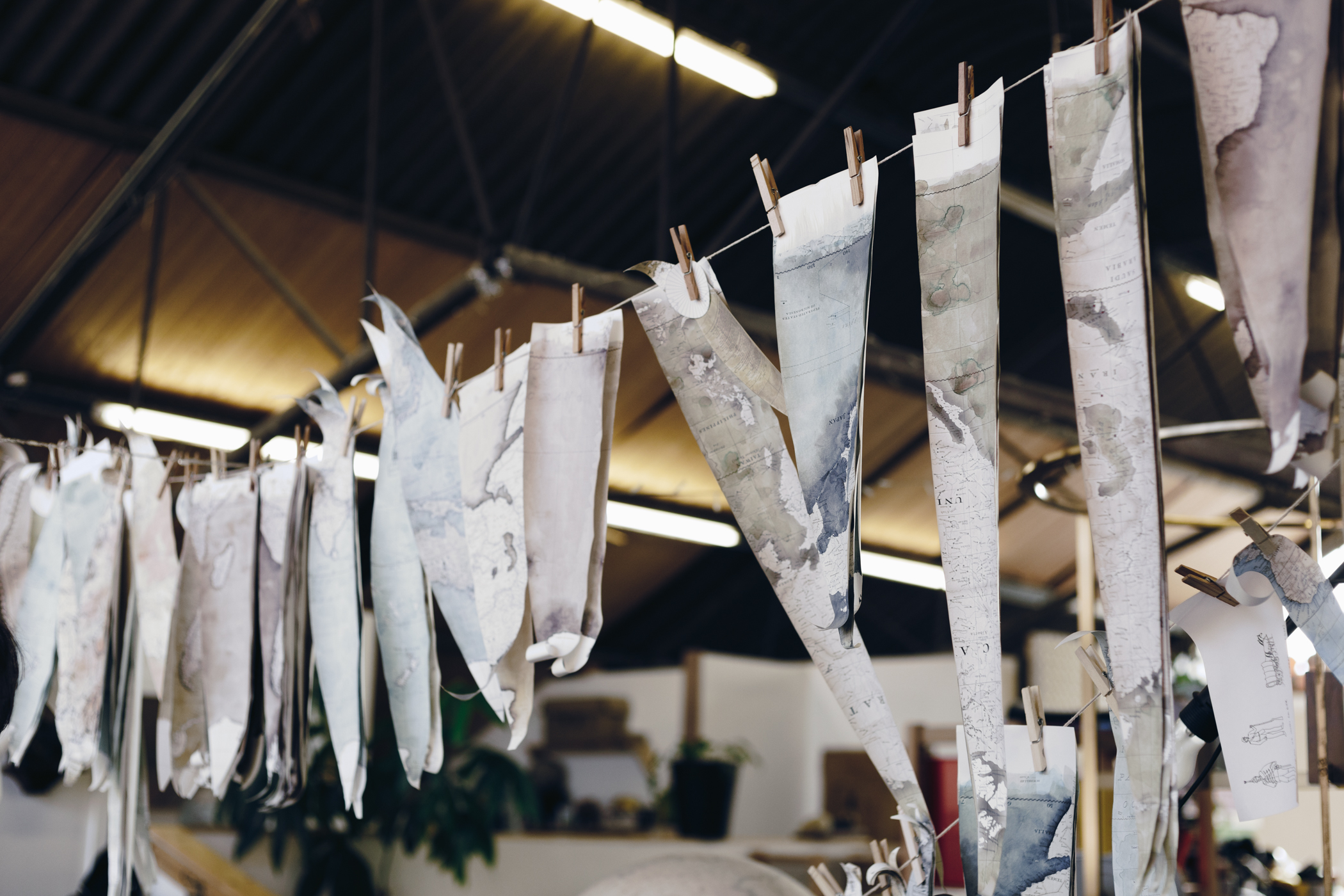 4. How has making custom globes informed your outlook of the world and the human experience?

It has made me realise how the human experience is so focused on relating to ancient civilisations and modern travellers seek to connect to their ancestors and past. We also learn a lot of peoples family histories, how their ancestors have moved across the world over time and continue to live across continents. The globe is a chance for many of our customers to teach their children where their family history is and leave an heirloom to future generations with these details for them. We have loved to learn what brought families to new continents and their experiences, how the past has led the to where they are now.
5. Tell us about the Mr. Porter collaboration!

Each globe we make is one of a kind in some way – being handcrafted and hand painted. Each base handcrafted as well. The pigments are hand mixed. Overall it is lovely to think no two could ever be exactly the same. And each globe passes through 4 or 5 sets of hands on its way to a customer. There are four different globes with Mr. Porter – all 22cm in diameter – both terrestrial and celestial. Each on a base where the globe can be spun 360 degrees in fluid motion by hand. They are weighted so that you can give them a great big spin and they keep going. One of their colours called Parchment is exclusive to their store and only available for purchase with them.

6. Thinking back to childhood, can you share an early globe memory or something that might foreshadow how you got into this business?

I was always fascinated with geography and loved globes. I remember putting enormous pressure on my father to buy a Bar Globe – which was very popular in the 1970's – and being very angry that he refused! As a child I always took things apart, wanting to know how things were made and what made them work. It drove my mom crazy of course. And I have always been a maker and fixer of things. I prefer to find a solution and make things work rather than call on someone external to sort things out for me.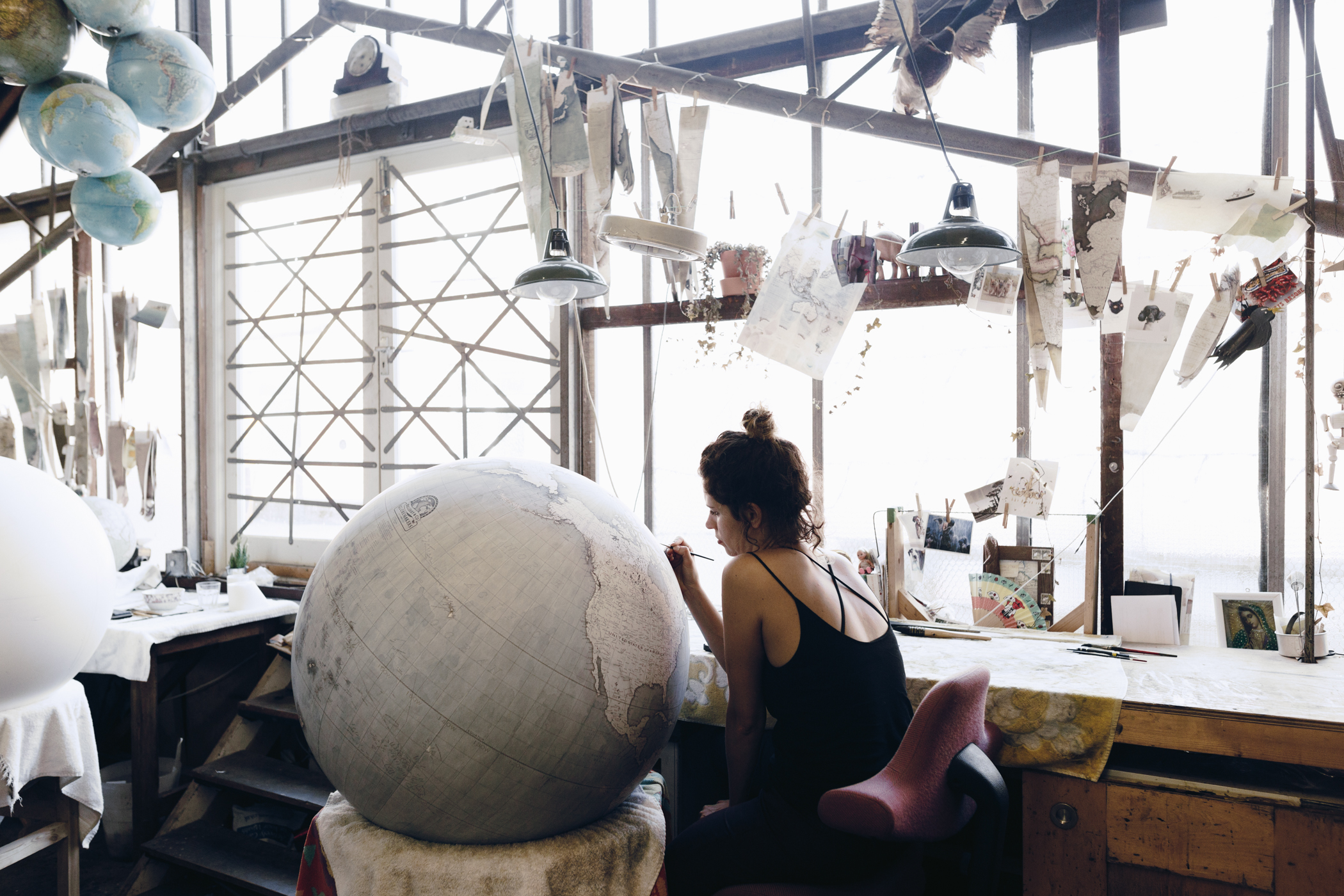 7. What have been some of the most poignant details you've included on a custom globe?

Gosh we have really had all sorts. Hundreds of globes which have gone to people of all ages and professions all over the world. We have had customers who have used their inheritance to commission globes in memory of a father or mother with personal detail that is so touching. Globes made as engagement or wedding gifts with love stories illustrated across the globe. Poems written by partners for each other added. And then cute things like a customer in Hong Kong who had a special illustration for each of his 5 beloved dogs to illustrate where they were born and how they made their way to him in Hong Kong. Some unimaginable things! Things we have signed non disclosures about. We are constantly surprised. Touched. Smiling. We love when customers have a sense of humor. Or really do their research and it leads them to re-connecting to family and working together with family to really personalize on a higher level than they first thought possible. A customer currently has held up production as he awaits the written records from Ireland (he lives in the US) and wants to find out exactly where a great-grandparent was born.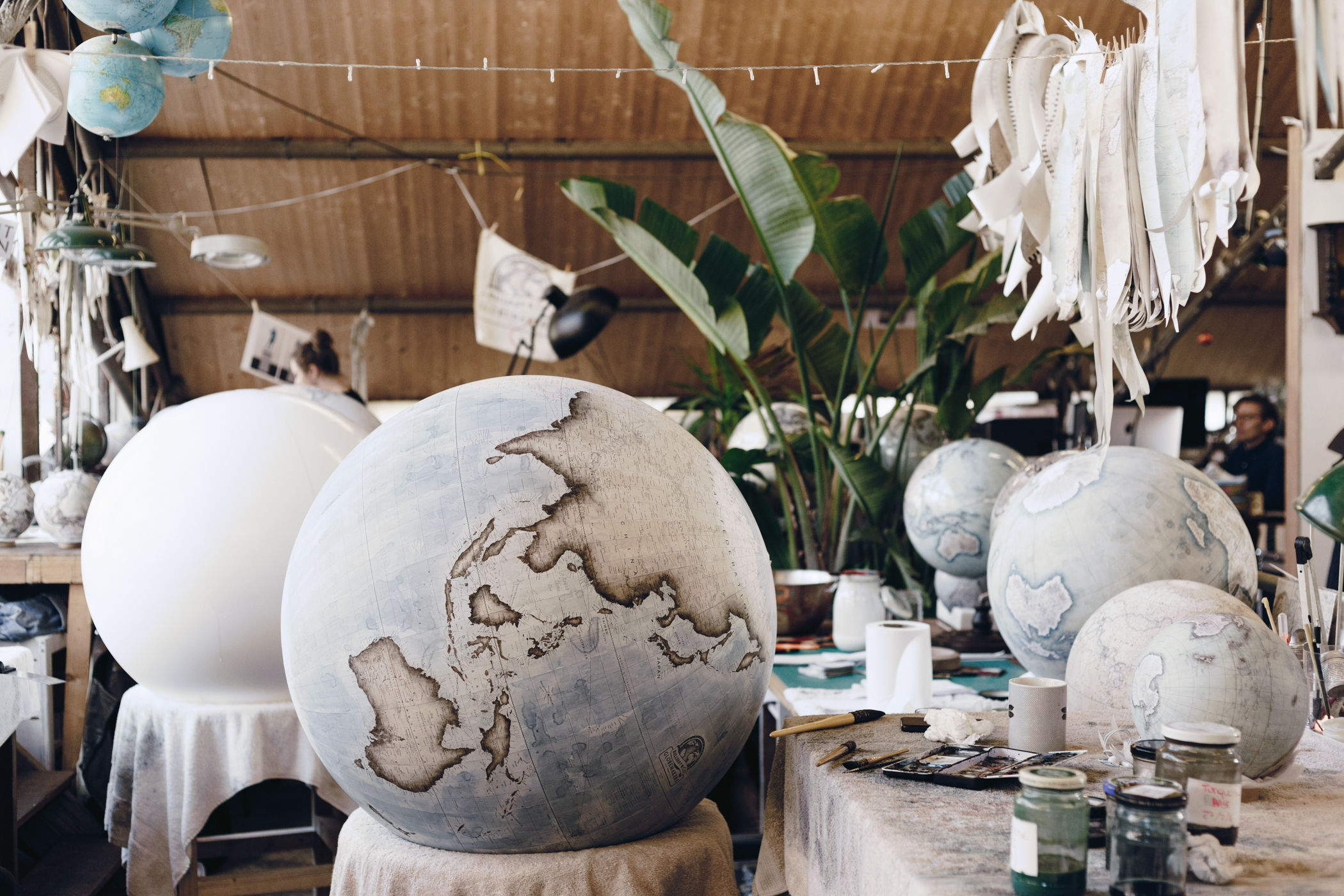 8. I'm interested in the celestial globes you make. Can you tell us a bit about those and how you're transcending the traditional globe with some of these different versions?

Combining them with a modern base of our design is what is really fun. How you can see all angles and lift the globe up from its base to look closely and explore. Traditional globes are fixed and where the globe fixes to the base you will always lose some detail. We have designed a more modern take on the Celestial as well. And customers who order a custom celestial add their own detail in. For example changing the constellation that is a dog – we take their photos and draw their dog in the same size and shape to fit in. One man had us add his wife who was an astronomer . We illustrated her looking through a telescope with constellations. And we recently changed two constellations to a man and his wife's faces – leaving the rest the same. People add smaller things like dates or play on words for the names of constellations so when they gift it to a loved one there is small detail to discover when looking closely.
Thank you Peter, Jade, and everyone at Bellerby & Co for your inspiring work. You can follow along on Instagram @globemakers and shop the collection of Mini Desk Globes online at Mr. Porter!
Photography by Paul Marc Mitchell, Kasia Bobula, Ana Santl, and Jade Fenster.