Q&A with Tug Rice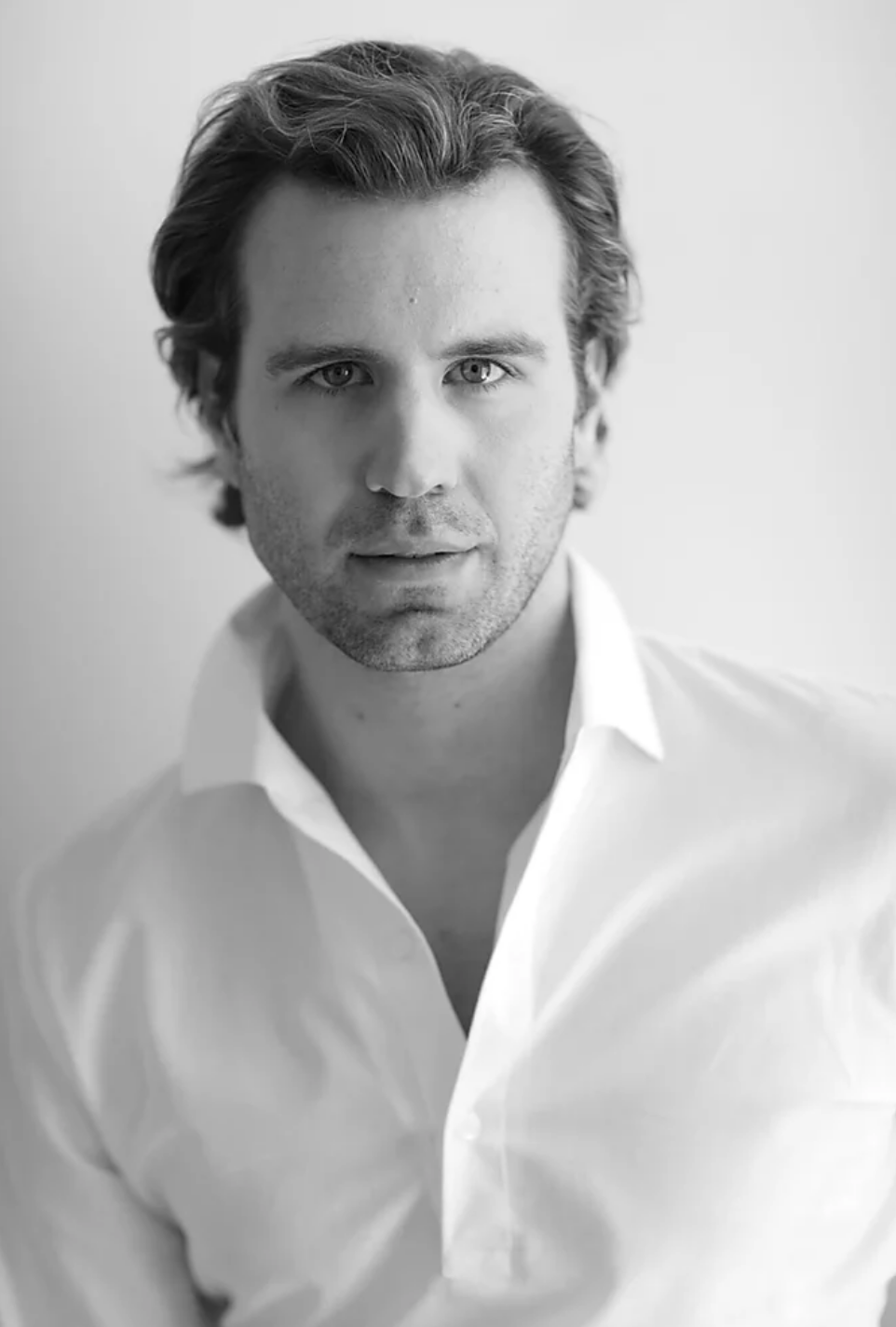 This year, I wrote a story for VIE Magazine on The Carlyle in New York City. Along the way, I stumbled upon Tug Rice, the talented illustrator behind the hotel's 2019 calendar. I quickly fell for his nostalgic interpretations of classic Carlyle moments. Since our first Instagram correspondence, I've learned — much to my delight — that Tug and I are kindred spirits, sharing a love of Hotel Sacher, cafe culture, Poulenc… and Bemelmans Bar. The answers below are insightful and charming, comedic and fun. Ladies and gentlemen, this is Tug Rice.
Where are you from and how did you find your way to NYC?
I grew up in a charming historic town in Pennsylvania about an hour and a half outside New York. I always knew I would end up living in the City. There wasn't really any doubt about it or any other option considered. I was lucky to have access to my favorite place in the world as a kid and now as an adult I feel lucky to live and work here.
As a child, did you know you wanted to be an artist?
Yes, I wanted to be an artist. But I didn't know what that meant. I collected picture books and maybe imagined myself creating my own someday. Then, as I got a little older, I became interested in the theatre. That's where I spent all my time and, although I kept sketchbooks and an appreciation for art, I never seriously considered a career as an illustrator. The word didn't really even exist to me. I thought artists had to go through rigorous classical training and that seemed quite daunting. I didn't realize that many of the artists I admired were, in fact, self-taught.
When did you start painting and what did your trajectory look like to be able to do it professionally?
I studied acting at Carnegie Mellon and after graduating, moved to New York and spent a few years doing plays in different parts of the country. I became fascinated with the relationship between the performer and the audience. My first paintings were based on that particular dynamic. I was convinced by a friend to submit a painting for exhibition in a group show and, through that opportunity, I was offered a solo exhibition in the West Village. I called that collection "Watercolor and Greasepaint: Illustrations Inspired by the Theatre." Lots of good things came from that, including my first commercial jobs. It happened quickly, which made it feel like it was meant to be.
What does your process/routine look like?
I work digitally. For me, it's a very similar process to working with paint and paper. I'm drawing, erasing, and painting — that's it. The only difference is that the tools are digital. It's like playing an electric guitar as opposed to an acoustic one. An illustration can take anywhere from an hour or two to a week or more. It all depends on the project. Lately, I've been listening to Poulenc.

What's been your most fun or exciting project to date?
Almost every project has been fun and exciting. I love the clients I get to work with. Illustrating the calendar for The Carlyle this year was certainly at the top of the list. And seeing my work in a magazine for the first time was very special. It still gives me a little jolt of excitement when I walk past a magazine in the grocery store and know something I created is inside. Never gets old!
It seems everything you do has a playful, nostalgic, and whimsical flare. Is that by design or how would you describe your style and choice of subject matter?
Oddly enough, most of the art I own is dramatic and a bit dark! My apartment is filled with pieces like that. So I'm not sure why my own work is so different. I suppose it comes down to wishful thinking. It would be nice to live in a world where everyone is bright and tasteful and attends the opera or whatever else it is the characters in my pieces do.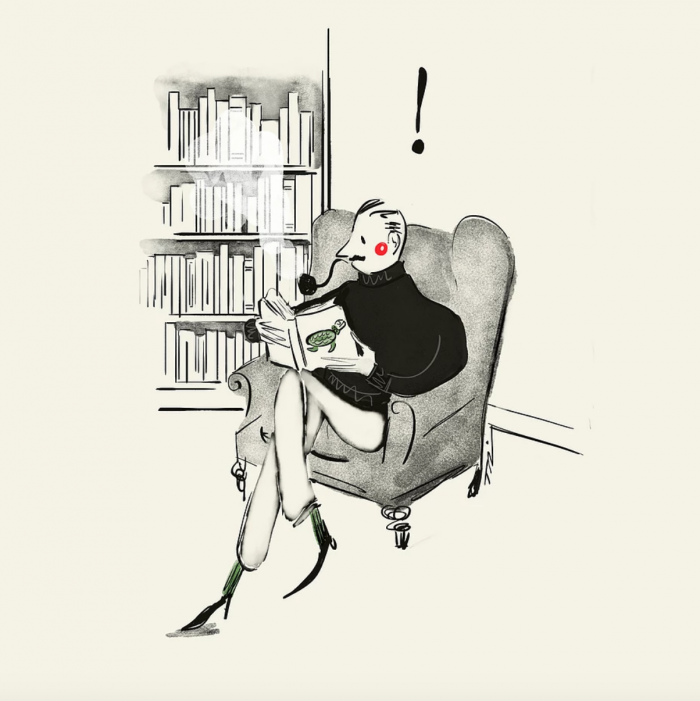 Where do you go to get inspired (both personally and professionally)?
I live on the Upper East Side so I can walk to some of the best museums in the world and that is something I try not to take for granted. I'll never turn down an invitation to spend an afternoon in a museum. Without knowing how or why, you can't help but leave feeling rejuvenated and inspired. At least that's been my experience.
How has your style shifted over time, in terms of what speaks to you?
Like most artists, I started painting what I knew. That was the theatre. As my personal interests have expanded, so have the subjects I paint. I try to meet interesting people of different backgrounds and professions and I hope the work reflects that.
I understand you also act? What similarities do you see between the world of illustration and acting?
In both art forms, you are often interpreting someone else's ideas — as an actor, it's the words of the playwright; as an illustrator, it's the words of an author or, say, the essence of a product or concept that is being sold. It can be tempting in both situations to overcomplicate. The goal should always be to figure out what is really going on and get straight to that. Clarity is key.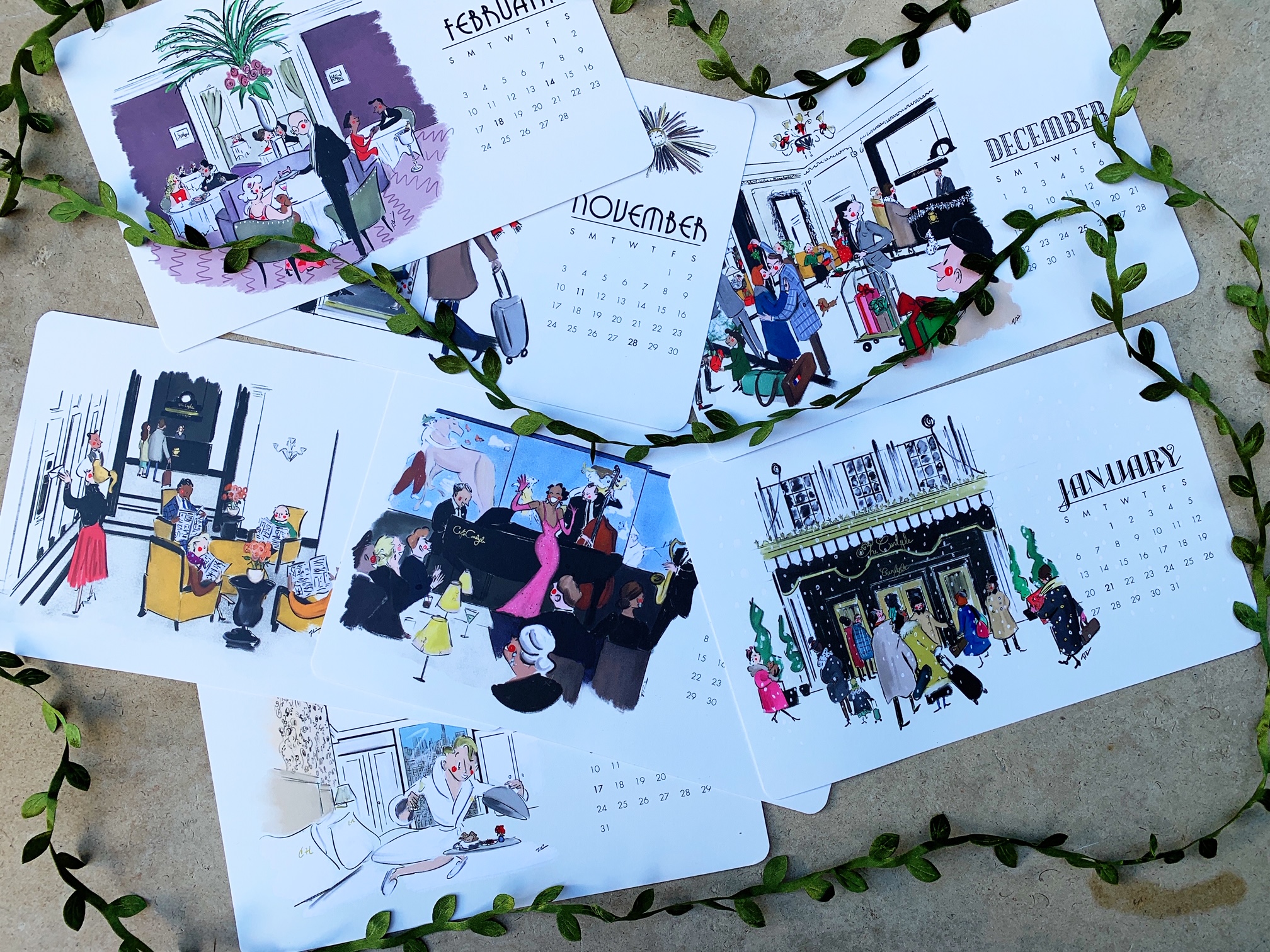 What differences do you find (and appreciate) between the two?
Thinking about it, they are actually quite similar. Of course, when you're doing a play you are engaging with the other actors as well as an audience, whose attention and reactions inevitably affect what you're doing. Illustration is a more solitary art form, though it can be collaborative depending on the project. You generally have no gauge as to whether the thing you're working on is having the desired effect. Only after you've finished it do you get the reaction. That's an exciting moment, though.
What do you dream about?
School plays from fifteen years ago. I have to step back into one at the last minute and I can't remember my lines or find my costume. Nightmare.
I do quite a bit of travel writing so I'm curious…What are some of your favorite places (and properties) you've ever visited?
I was in Vienna last month and it was as elegant and sophisticated as everyone says it is. I love cafe culture and could spend all day people-watching over a coffee. Of my favorite properties, the Petit Trianon in Versailles comes to mind, and the Dennis Severs house in London. But my all-time favorite place to visit is Stratford, Ontario. I make a trip to the Stratford Festival every year.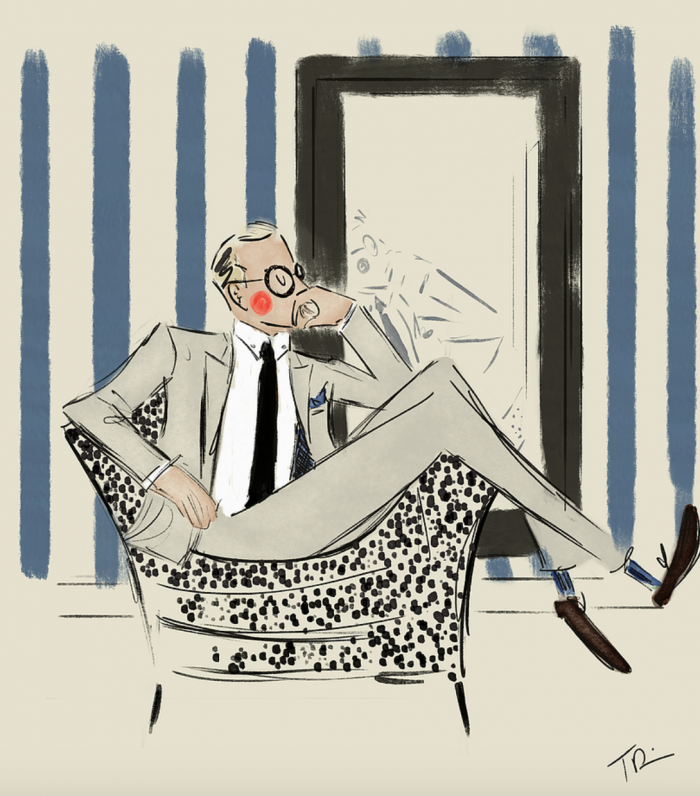 What is something we might be surprised to find on your bucket list?
I take boxing classes and the only way I can get through them is if I pretend I'm in training for a big match. Not sure if that's actually on the bucket list but I think it could be fun to do once. It's nice to punch things sometimes.
What's moved you lately?
Seeing and hearing the European star Pia Douwes sing the role that made her famous (Elisabeth) outside the Schonbrunn Palace with 11,000 other people. That was surreal.
Any words of wisdom for aspiring artists?
Draw, draw, draw. Share your work and don't worry about trends.
What artists or creators do you look up to?
I admire artists who are not afraid to try new things. David Hockney continues to explore new mediums. Sondheim has written (and mastered) just about every music style there is. Robert Altman never stuck to one genre. Ang Lee, too. Artists like that, who welcome reinvention, are the bravest and most interesting. And they probably don't often get bored.
If you could organize a final supper, who would you invite (dead or alive) and what would you serve and where would you gather?
Easy. Noel Coward, Leonora Carrington, Oscar Wilde, and Cleopatra. We would dine on my Great-Aunt Betty's red velvet cake and and it would take place at the Rote Bar inside the Hotel Sacher in Vienna.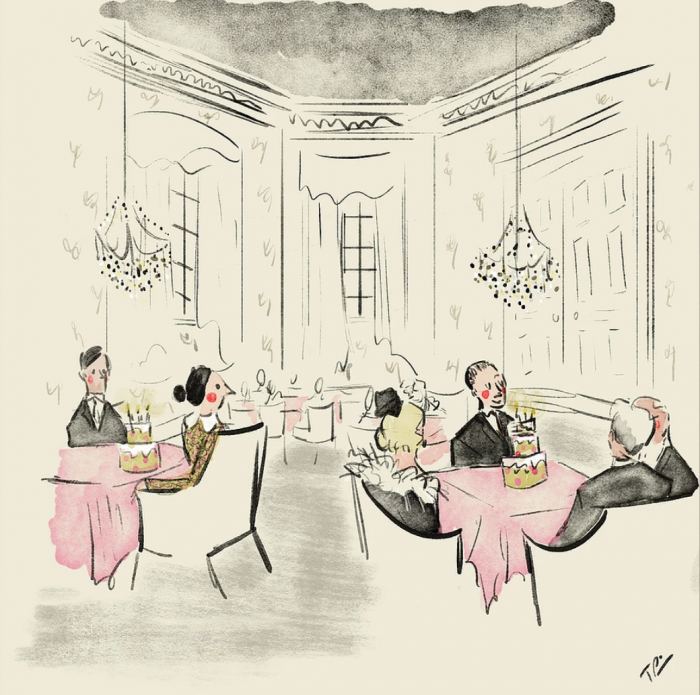 What are some of your favorite NYC restaurants and bars?
Bemelmans Bar, Majorelle, Wallse, Jojo, Shalel, Bar Centrale.
What's the best advice you've ever received?
"If it looks right, it is right." (Dorothy Draper via Michael Ostrow)
What's your favorite work of art and/or your favorite book of all time?
My favorite book is probably The Crimson Petal and the White by Michel Faber. I read it at 14, which was way too young. But I absolutely loved it. This year, I read it again and loved it even more. I also have to say Nights at the Circus and Wise Children, both by Angela Carter, are favorites as well.
Is there any art advice or theatre wisdom you hang on to that is applicable to life at large?
Life is not a dress rehearsal. What are you saving it for?!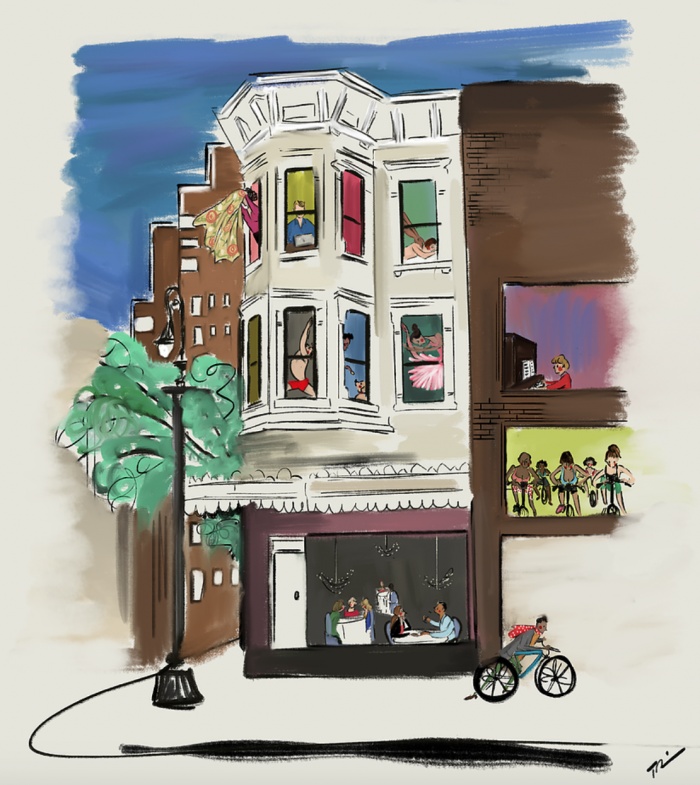 What's the issue you feel most passionately about right now?
We must all be very kind to one another.
What's next for you and what do you see for the future?
I illustrate a new weekly column for Broadway.com that's sort of a dream job. I'm also collaborating with some very talented people on a few exciting products over the next few months. I've been working and am going to continue working closely with designers here and on the west coast on projects. There's also a project in Europe that I'm looking forward to. That's all I can say!
Last, tell us about one big, bold, audacious goal for yourself.
Heated floors in the bathroom!
Visit him at www.tugrice.com or follow along on Instagram at @tugrice