Q&A with Sylvie Corbelin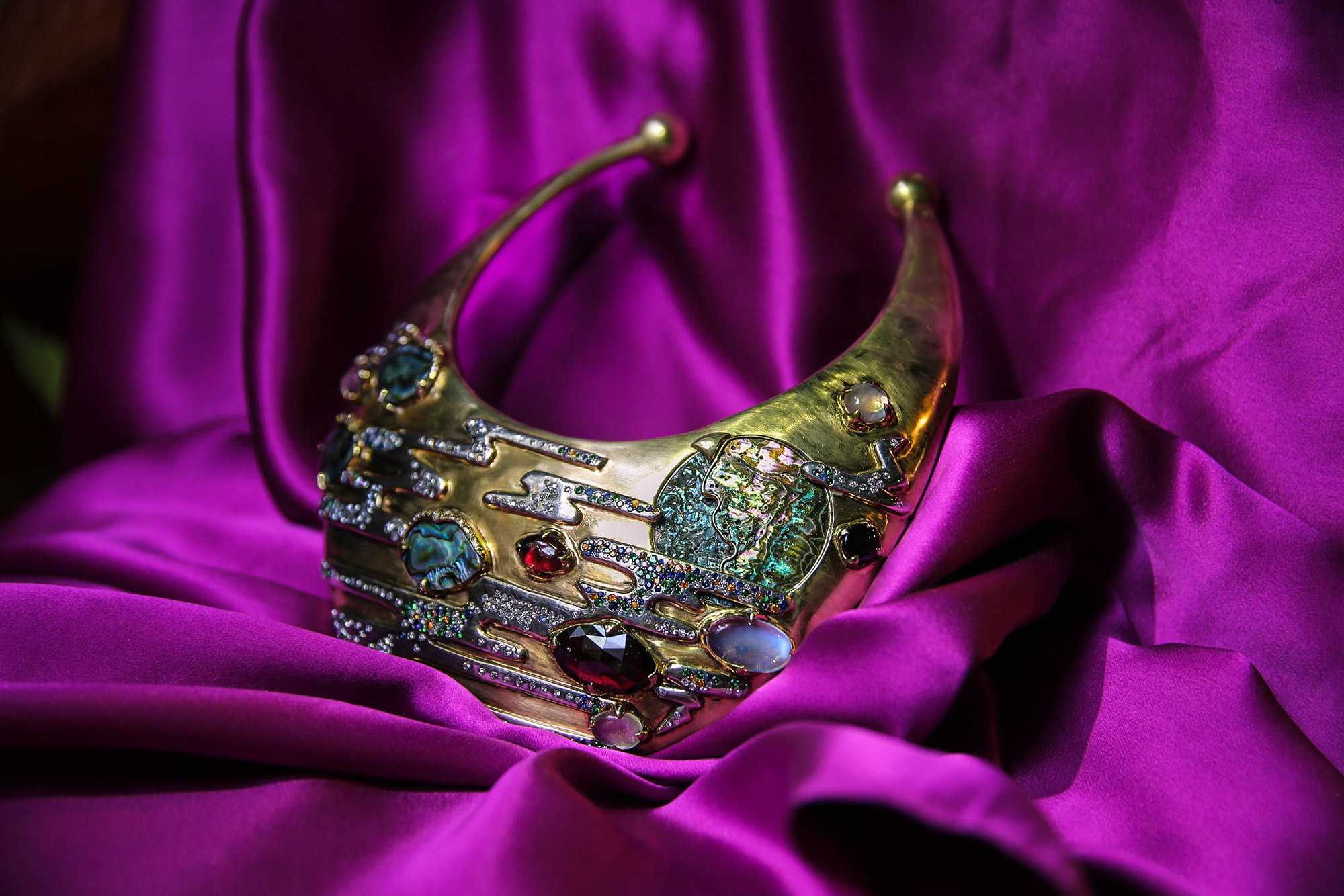 A few years ago, I went on a magical mother-daughter trip to Paris. Together, we spent a week walking beneath the chestnut trees, feasting on French food, and time traveling in museums. One of the most memorable moments of the trip came on a weekend visit to the Paul Bert flea market. This market is a must-visit for its maze of galleries selling gilded antiques, sterling tableware, oil paintings, and vintage clothing, from Chanel to Yves Saint Laurent. That day, we stumbled upon the ivy-covered atelier of Sylvie Corbelin. Stepping through the doorway, we entered a tiny magenta jewel box filled with gold mermaid necklaces, bejeweled butterfly earrings, and diamond rats affixed to coiled rings. There, we befriended the beautiful lady behind this one-of-a-kind collection. In 2019, I returned to Paris and met Sylvie at her home in the Marais. She served tea and shortbread as I took in her whimsical home filled with assorted collections like Murano glass jars and Fornasetti umbrella stands. That afternoon, we visited about life, her line of work, and how she is designing on her own terms. Sylvie has an amazing eye and a strong point of view. Her work is heirloom quality and each design evokes something about the human experience, be it spirituality, protection, or nature. Everything is thoughtfully considered, including the backs and undersides of earrings, pendants, and rings, which are inlaid with jewels, inscribed with poetic passages, and etched with symbolism. What a gift to know such a talented soul and how lucky I feel to call her my friend. I hope you enjoy this Q&A with the one and only Sylvie Corbelin.
1. First off, where are you from? How did your upbringing shape you as an artist?
I was born in Bourg en Bresse, a small town in France famous worldwide for its poultry and cuisine. Bresse is one of the most Michelin-starred regions. The centuries-old tradition of this region rests on the high quality of the product itself. Therefore, it is not necessary to add anything superfluous to enhance its taste. This tradition has informed my approach to jewelry making: creating without "fuss" and highlighting the best of the stones used.
2. When did you realize you wanted to work in the jewelry industry?
The real decision to work in the jewelry industry came later in my life. But since I was 10 years old, I assisted my mother in her work as an antique dealer. With her, I discovered the beauty and the value of objects. I loved glassware and the magic of the light giving multiple colors and shades to a single piece. And naturally, I drew a parallel between the reflections in glassware and precious stones and decided to study gemology.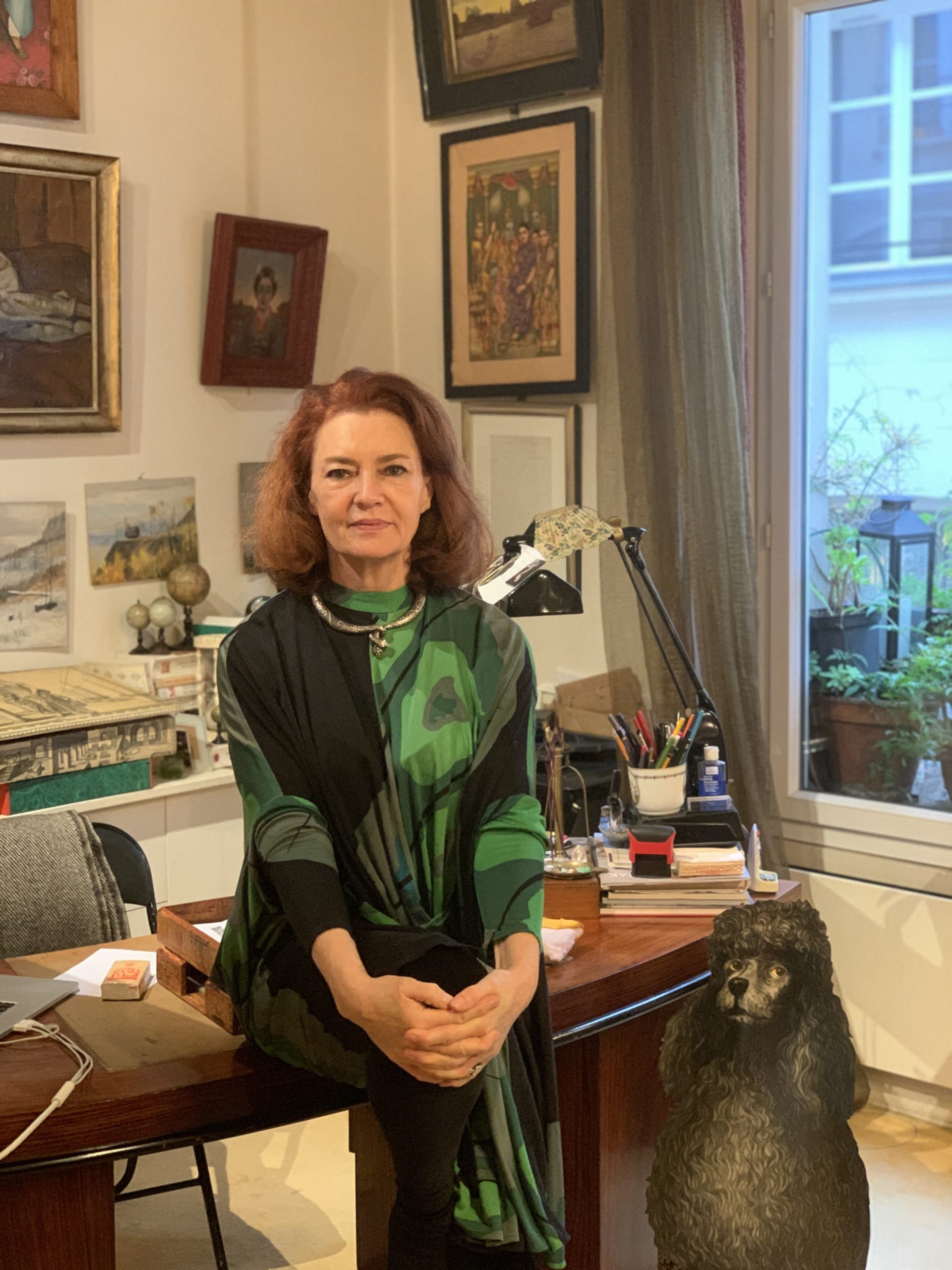 3. What was the first piece of jewelry you ever created?
The first piece of jewelry I created was a ring with a coral cameo set with four stones forming a cross.  Already, I thought the beauty of a stone didn't need any more design.
4. Before gemology, you studied law and philosophy. How did that inform your outlook on life?
I was an independent and happy go lucky child. As an adult, I have always liked to make my own decisions about my work, my life, and also my creations. Which is not without difficulties for a woman and especially for a woman of my time. It was therefore necessary for me to defend this independence of mind, which I consider to be the fundamental value of my creativity, supported with studies of philosophy and law.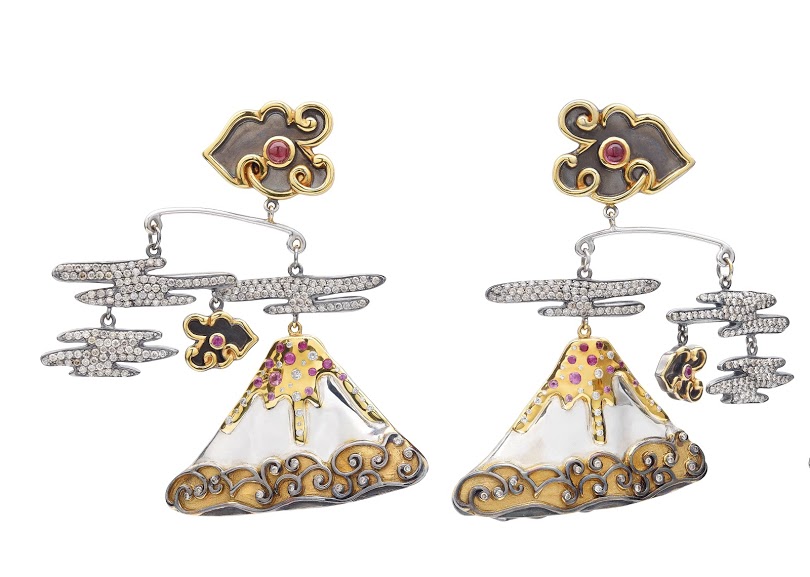 5. What were you doing before you launched your line?
I was an antique dealer who specialized in jewelry. I was known for selling jewelry with unusual designs as well as jewelry from previous centuries, both beautiful and bizarre. According to French law, there are 4 categories of precious stones. Diamonds, rubies, sapphires and natural pearls. When a stone is high quality and I like it, even if it doesn't fall into the category of "precious," I don't see a reason not to buy it. As an example, I have a passion for turquoise of Persian origin, which in ancient times was engraved with poems or extracts from the Koran and used as "sweet notes" between lovers. Thanks to this passion, I became a supplier of antique stones for Cartier.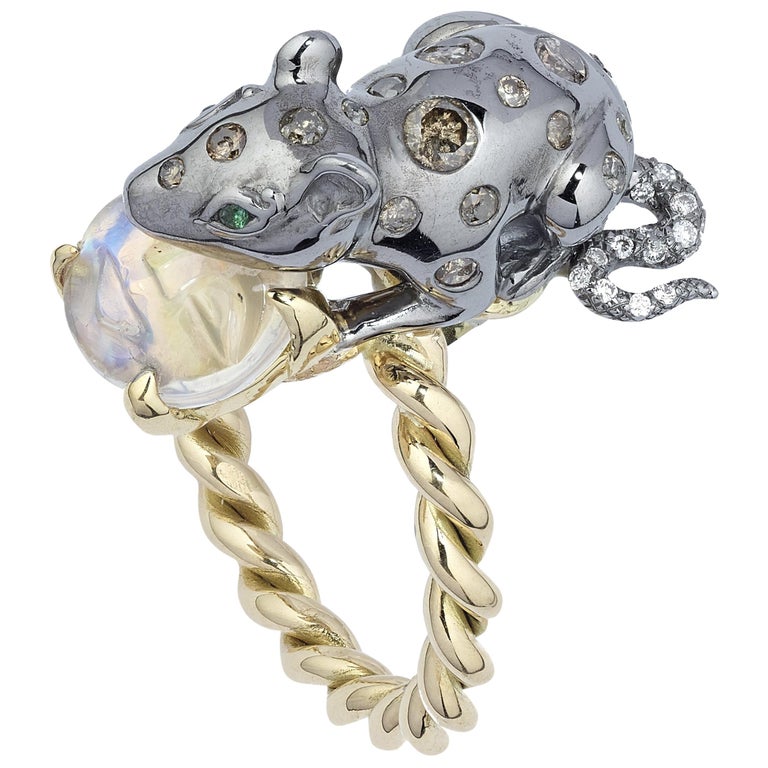 6. Are there recurring themes or symbols in your work?
Among other things, primitive fears and their symbolization are a recurring theme. One of my very first creations was a ring in the shape of a snake forming a loop. The snake is a silent animal which must lose its skin in order to grow. I used the same symbolism for the butterflies that I like to mount on earrings. It is in renunciation that we grow and make our lives. The snake is the necessary and mysterious link which unites us to the Other. My work must always be joyful, sparkly, and playful.
7. I love the amount of detail in your jewelry, like tiny poems etched into hidden places or your initials carved on the underside of a ring. Can you explain how you incorporate these details and why the backs of your jewelry are just as important as the front?
I consider a piece of jewelry like a person, beautiful inside and out with a story to tell….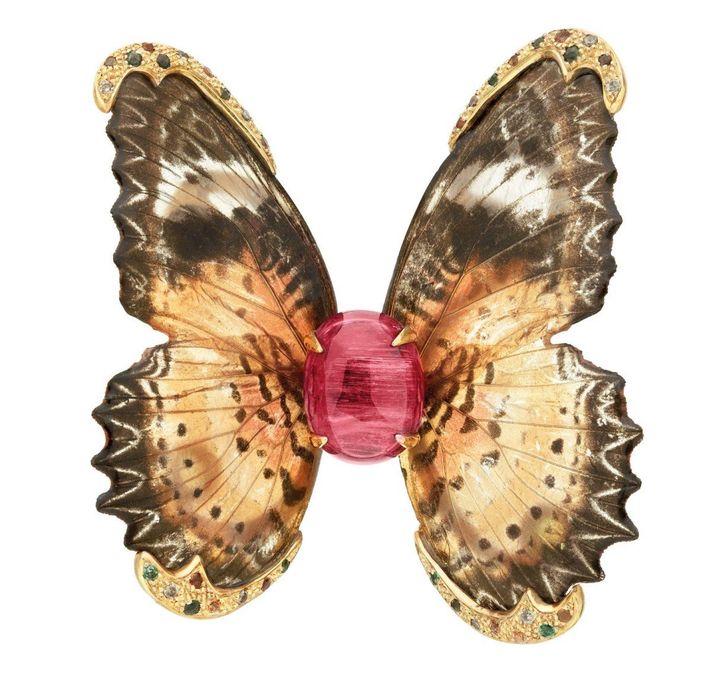 8. Where do you go to get inspired, both personally and professionally?
I am very sensitive to my surroundings and atmosphere. I remain curious about the work of creators of all categories (cooks, architects, gardeners, singers, painters, and jewelers…) The museums that I visited from an early age, the exhibitions of our artists … travels are also a source of inspiration. But the most important remains poetry which speaks directly to my heart.
9. What are some of your favorite places you've ever visited?
In Europe I have wonderful memories of England, its countryside and its gardens. Italy is my mother's country and it's dear to my heart. Spain and Portugal for the generosity of the people. I am sensitive to nature, to gardens, including those of my childhood in the province of Bresse. Simple or sumptuous, they remain the most spontaneous symbol of happiness. I have visited many countries and I always find a quality which permeates my sensitivity. The Orient and its sense of richness, the Far East with its humid heat and smells, America and its vastness, Argentina and its tango that I dance regularly …. And I apologize to all the other countries which are not on this list but which count in the same way as the others.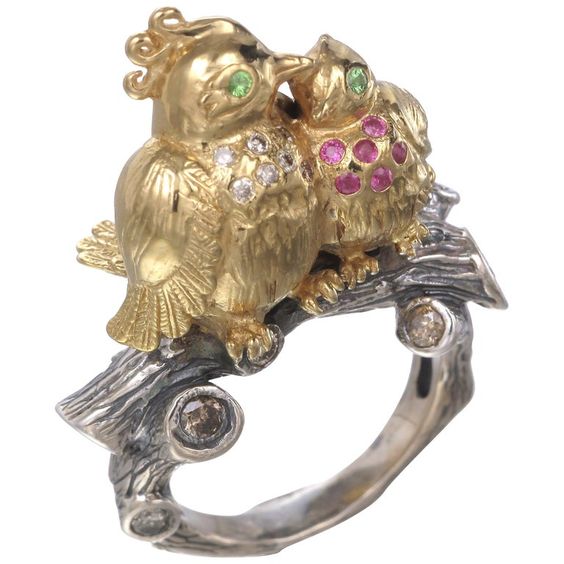 10. Tell us something people might not know about you.
Friendship is paramount to me. Women are very important in my life. I understand and know their suffering, their fear, and their desire. Often, they come to my store just to talk, to confide, without feeling obligated to buy. I also like men!!!! They're more mysterious to me, but I do believe I have nice relationships with them. I even started to create jewelry for them. And my favorite thing to do to foster these friendships is to cook them great meals washed down with good wines!
11. What artists and creators from history to the present day do you look up to?
Many personalities and artistic currents are present in my inspiration such as the expressionist painter Franz Marc who stages the vital force of Nature, the Viennese Secession with Klimt and his famous sentence which could be my definition: "To please many is not a solution." Belgian symbolism with the painter Spilliaert for his work on solitude and light. But also Caspar David Friedrich, Franz Von Stuck, Fernand Knopff, Gustave Moreau….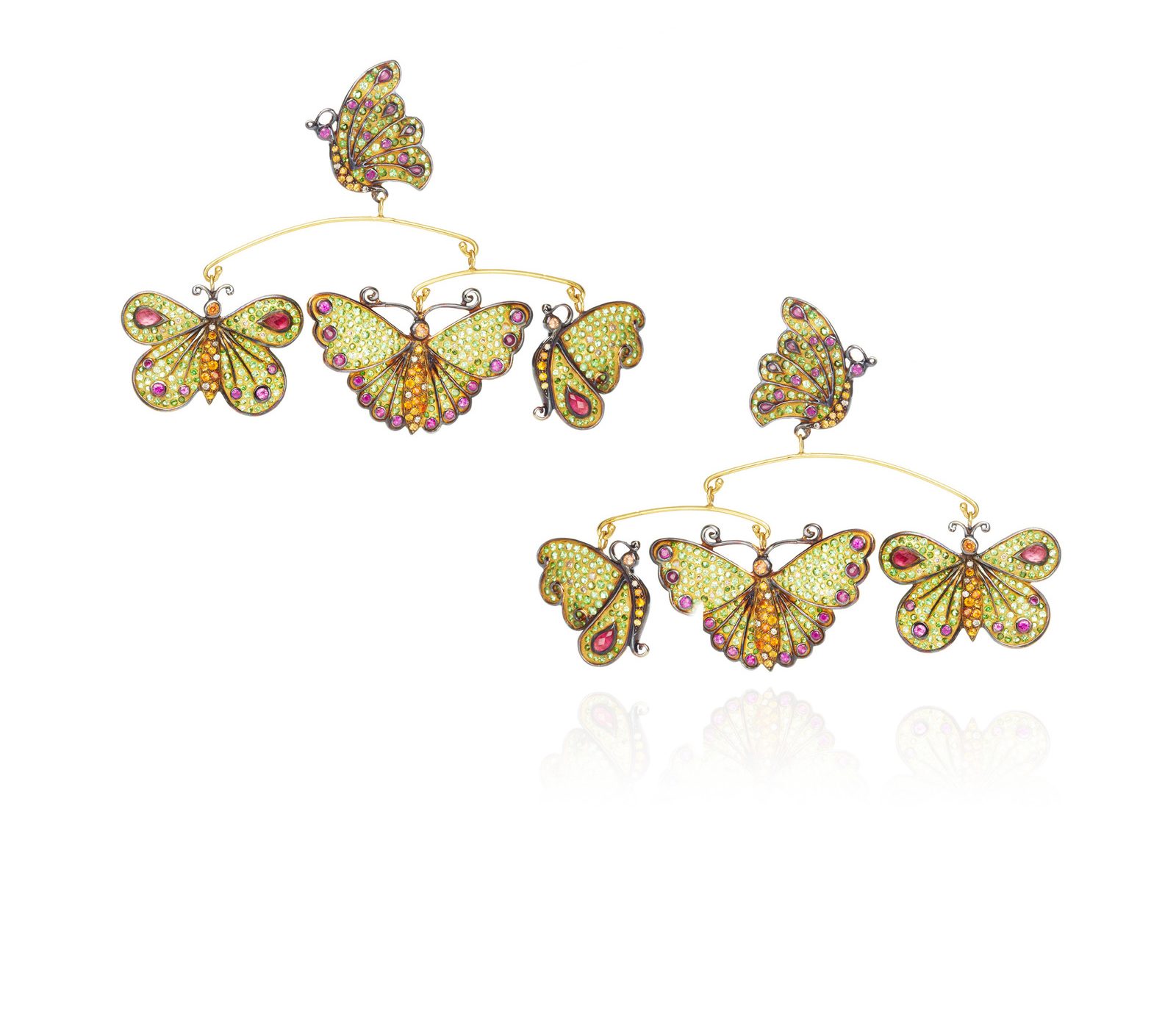 12. If you could organize a last supper, who would you invite, what would you serve, and where would you gather?
Interesting question…Dinner would be at home around my round table. I would cook fresh seasonal products all served with great Burgundy or Côtes-Rôtie and white Sicilian wines bursting with sunshine. I have a preference for the living and the Renaissance people. So I would bring together my most intimate friends, as well as my sister and Georges Pompidou (former French president) for his precursory sense of aesthetics, his intelligence, his strange beauty, his love of life, but also to thank him for having written the magnificent book, Anthology of French Poetry.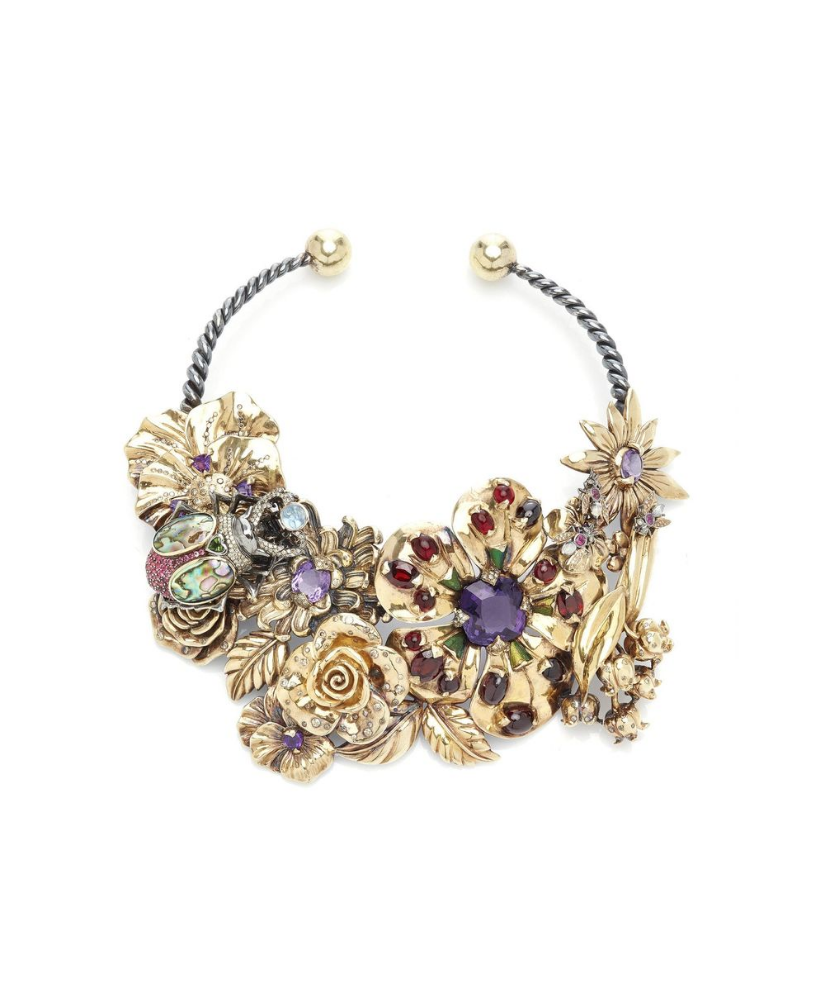 13. I loved visiting your beautiful home last year and seeing all your collections. What do you like most about "treasure hunting"?
I never knew how to refuse myself a pleasure! So I spend a lot on objects, paintings, or travels … I choose with my heart and my eye. It gives my home a unique baroque ensemble, a daydreaming quality that does not obey any rules of decoration.
14. What are some of your personal favorite places in Paris?
The Museum of Romantic Life, The Gustave Moreau Museum, and the Guimet Museum are my favorites. In terms of cuisine, I mainly appreciate restaurants that offer traditional cuisine, generous and respectful of products, whatever their geographic origin. I also have a small preference of brasseries. I would be very happy to invite you, dear Sallie, to one of my little secret corners on your next trip.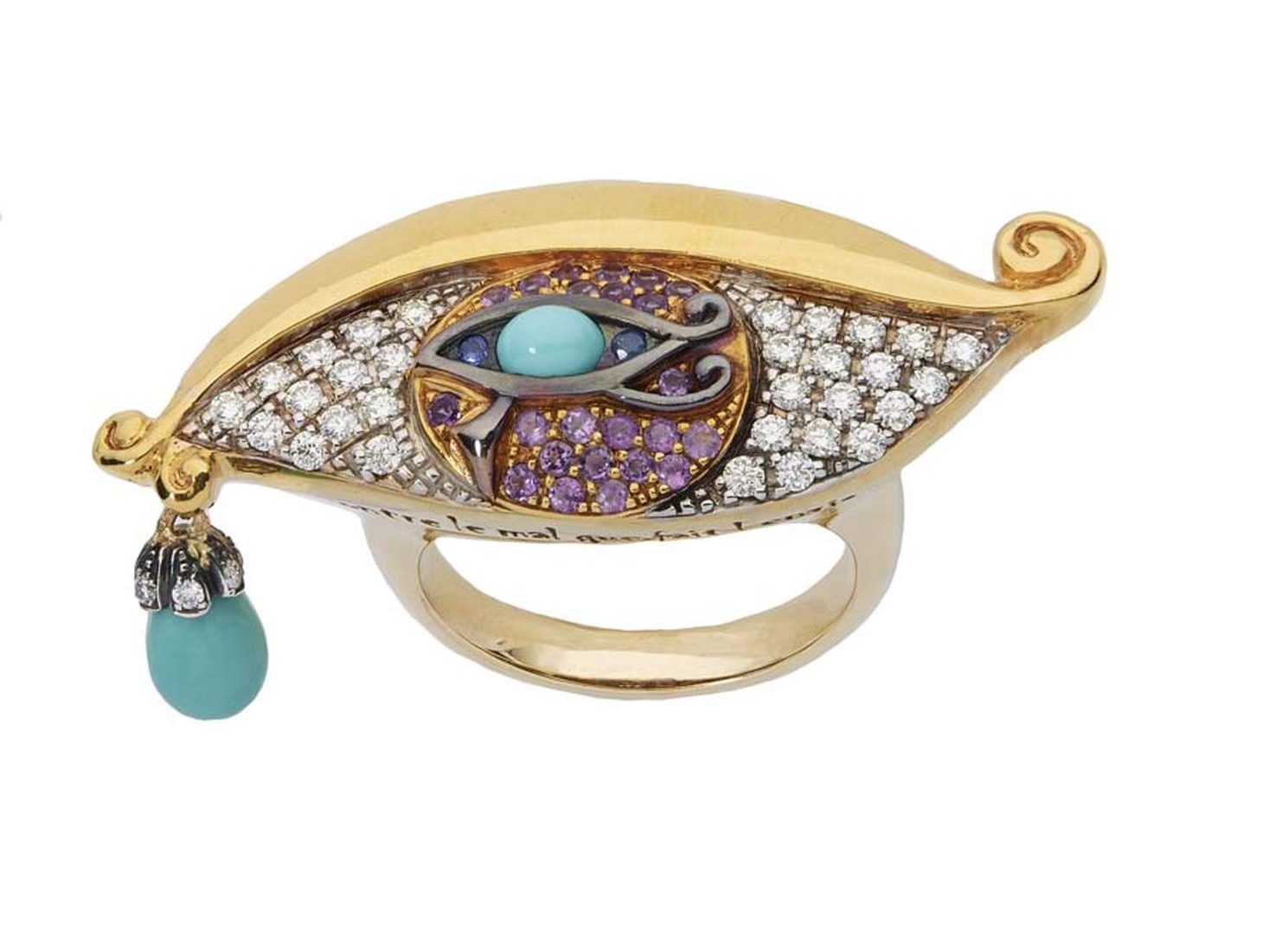 15. Do you have a favorite piece of jewelry or something you wear every day?
Every day I wear two of my snake rings, each with a center diamond. Together, they form a unique, intricate design.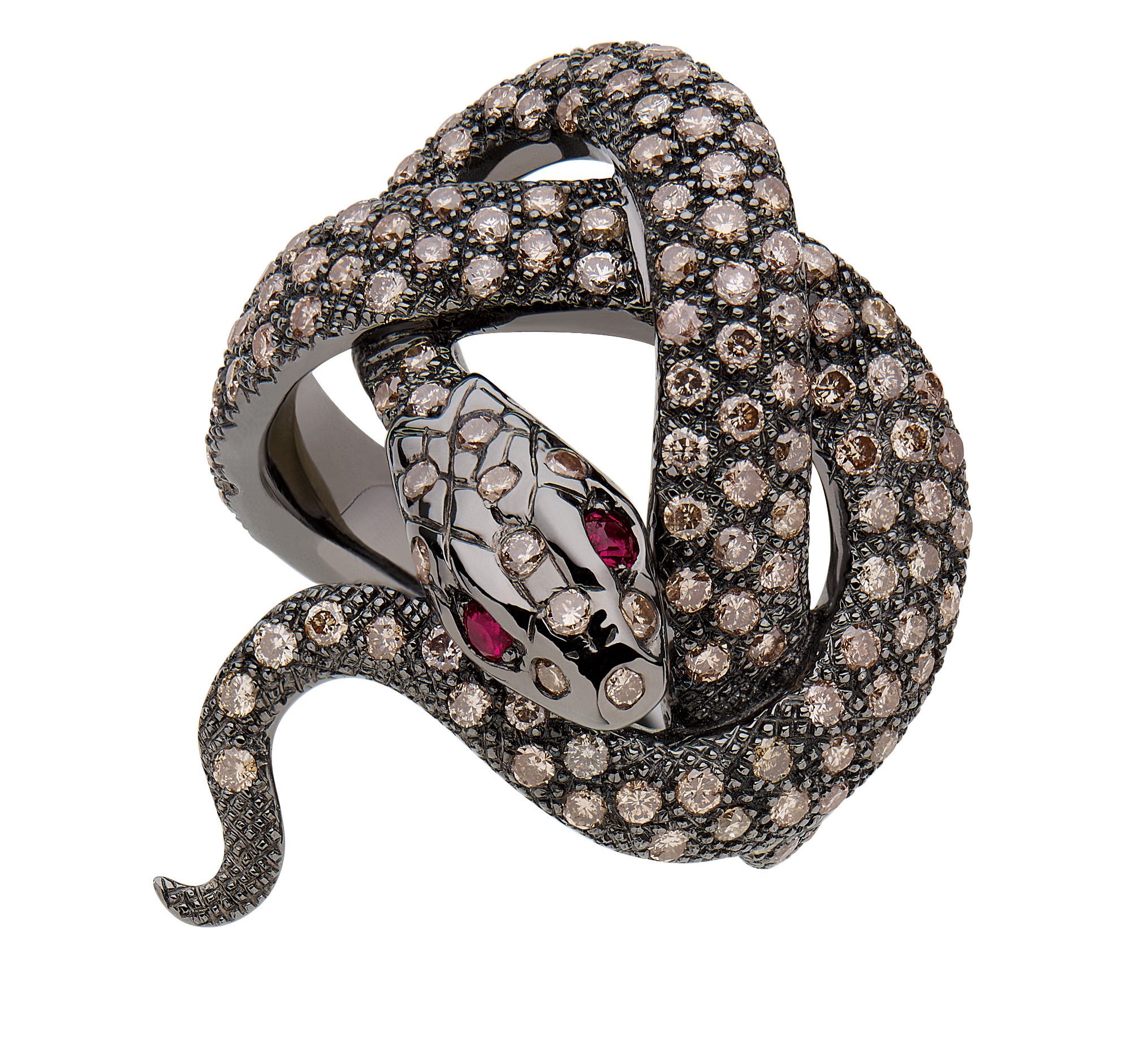 16. What do you love most about your job? And what do you think it is about the collection that attracts jewelry collectors and clientele?
I do not draw according to the seasons or commercial imperatives. My jewelry is designed and manufactured with a spirit of resistance to industrial production methods which in turn gives it a real identity. Not drawing in a conventional way is my signature. Imperfections, irregularities, and a certain brutality are my trademark. Then, the artisan in the workshop who makes each piece (the same workshop for several decades) has its creative share. The silversmith's hand is sometimes faced with difficulties that I didn't imagine. His input can modify the original model and I welcome that part too. I will never create jewelry using software! I think the pleasure and the implication that the workshop and I bring to our manufacturing are the main values that delight my customers.
16. I remember you telling me you wear jewelry to feel strength and power. Is this what you hope your jewelry does for others?
I hope that each piece worn by my collectors drums up a kind of emotion which pushes them out of themselves into a state of daydreaming.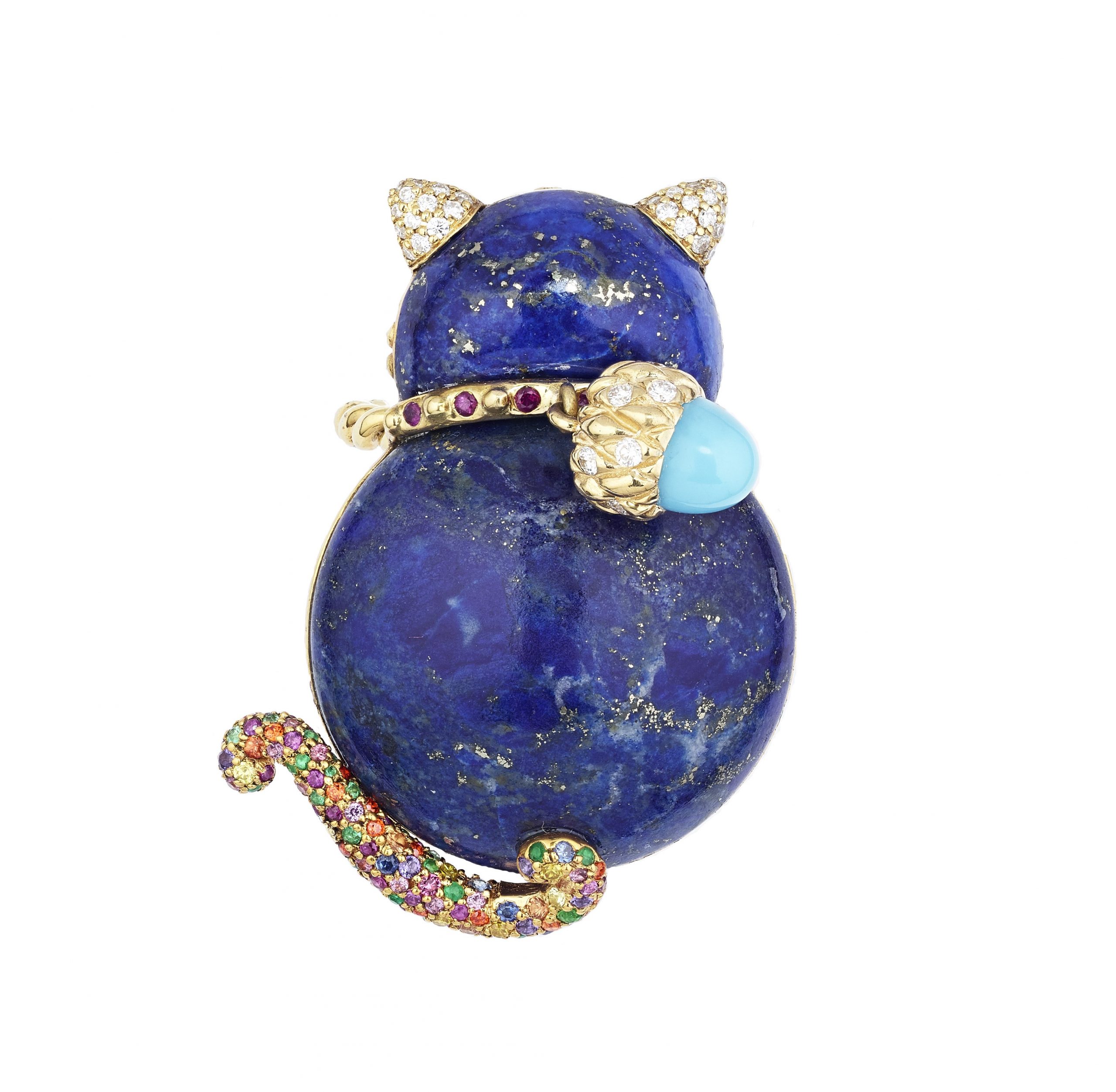 Sylvie's shop is located at Marché Paul Bert, 110 Rue des Rosiers, 93400 Saint-Ouen (sylvie-corbelin.com) You can shop online at Moda Operandi and Just One Eye.