An Interview With Gul Hurgel
Those who know me best know that I favor dresses and skirts over tight jeans or any kind of pant for that matter. I'm always on the hunt for the next fun dress – and dress designer. Months back, I was delighted to stumble upon Turkish fashion designer, Gul Hurgel. I found her via two of my favorite street style ladies, Kate Foley and Pippa Vosper, both of whom I think have impeccable taste. I had an instant connection to her collection and knew I needed to save up in order to bring a dress or two home.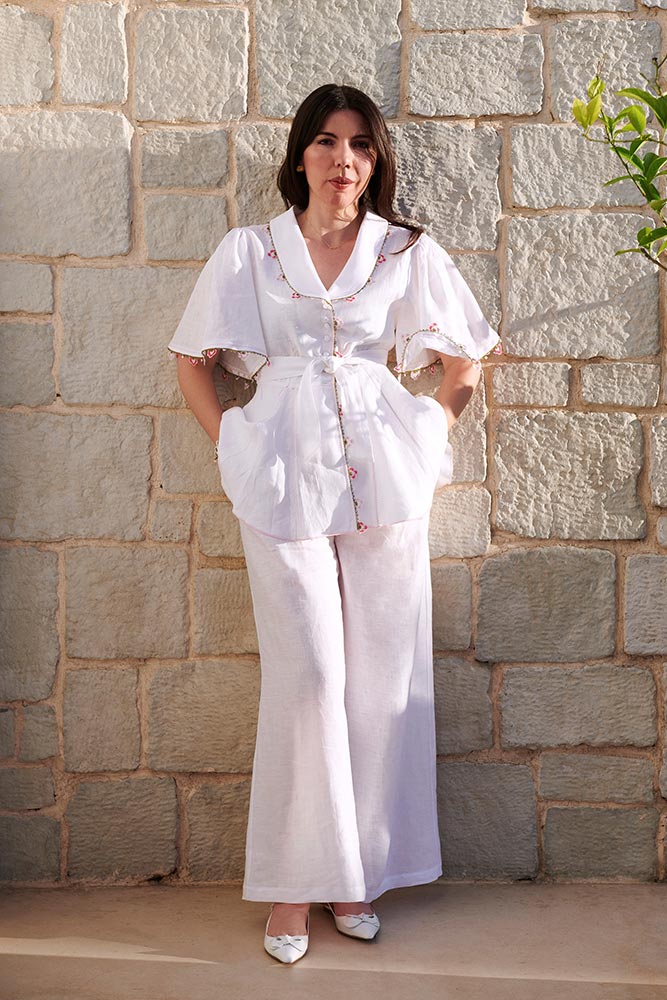 Gul's dresses are made of lightweight linens and come in pretty patterns and refreshing colorways. I am drawn to their easy fit, whimsical details, and their classic, timeless silhouettes all of which evoke a sense of nostalgia. I splurged on two of her dresses this year and have gotten more use out of them than I thought possible, thanks in large part to the mild weather we get in San Antonio pretty much year round. Fresh off the release of her latest collection (think: lemons! strawberries! ruffles! flower prints!) I am honored to have chatted with this elegant young designer on her inspirations and artistic journey.
Tell us a little about yourself – where are you from and what did you study?
I was born in Istanbul. I studied Fashion Design at Parsons. The first 2 years were in Paris and the last 2 were in NYC.
What were the most valuable things you learned that you apply to your business today?
Both cities have taught me to observe details closely such as architecture and lifestyles.
What was the impetus to start your line?
I always wanted to work with lightweight fabrics. I was always fascinated by the Mediterranean lifestyle and that became my inspiration for the first collection. I created my brand with these two concepts.
What was your first move when you realized this was what you wanted to do?
My first move was showing (the collection) to my friends who are also in the fashion business.
As a young girl, did you know you wanted to be a designer? (If not, what did you think you'd be doing?)
I never said I wanted to be a designer but I always had paint or color on my hands. I could have done acting as well.
Where do you find your inspiration?
Real life is my inspiration. Furniture, cuisines, everything that defines a lifestyle.
How has your Turkish heritage shaped your brand?
Using colors and shapes with feminine cuts could be the influence of my Turkish heritage.
What have been the greatest challenges and rewards to starting your own fashion company?
Greatest challenge is having a fear of failure at the beginning just like anyone else. Greatest reward is seeing my designs on women from different places.
What advice would you give to aspiring designers, or those who might have a deep-seeded interest to start their own business?
The only advice I can give is be patient.
Your line has become a sensation in such a short amount of time – clearly it resonates with people all over the world (myself included!) To what do you attribute your success?
I created pieces that women felt happy and beautiful wearing. It gives me great pleasure to see a complete foreigner wearing my designs. In all these photos I realized each woman looks so happy. I was also happy with what I was doing and this brought success with it.
What wisdom would you give your 22-year-old self?
I'd say 'do not be afraid of making mistakes.'
Please share with us your 5 favorite travel destinations.
Italy, Portugal, West Coast of Turkey. Apart from the Mediterranean, Japan and India.
Where do you hope to travel one day?
Anywhere in South America.
Can you share with us a few lines / designers that inspire you or personal favorites that you wear yourself?
Dries Van Noten, Rochas, Isabel Marant.
Take us through a day in the life of Gul Hurgel. Do you stick to any routines or is every day different?
During weekdays it is quite the same. I go to my Atelier and I drink my Turkish coffee, always.  Throughout the day I may go out for appointments.
Lastly, what's next for your brand?
I might have a collaboration for a jewelry collection.
Thank you Gul for visiting with us! I look forward to watching you grow.