Summer Days In Chamonix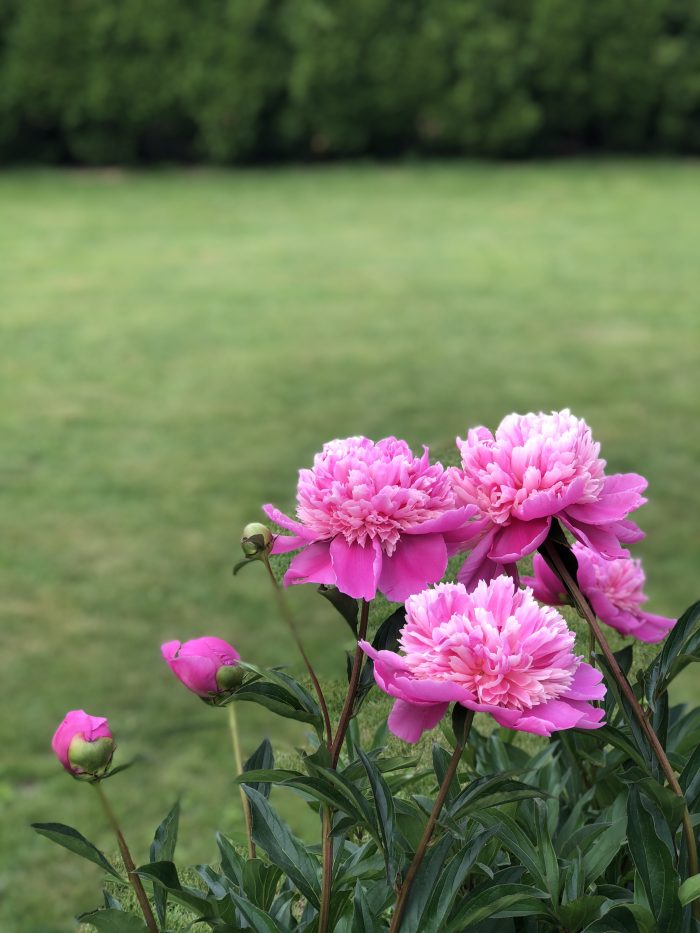 While Chamonix is one of France's most historic and well-known ski resorts (it was the site of the first Winter Olympics in 1924), visiting in the summer did not disappoint. Wild flowers grew in every direction and majestic blue mountains circled the town, as if trying to shelter this place from the outside world. We were there for a very short weekend trip but managed to squeeze in a fair amount of adventure and relaxation.
On Saturdays in Chamonix, there is a lovely farmer's market in Place du Mont Blanc. Named for Western Europe's largest mountain, the square is a hive of activity come early Saturday mornings. Walking through the passageways, I passed rotisserie chickens with their skins turning crisp and vendors selling heart-shaped fromage and rounds of goat cheese folded with herbs. I picked up a handful of alpine soaps perfumed with lavender and I still think about the boxes of fresh honeycomb I left behind. (Bien sur, I'll be buying some on my next trip!) For lunch, a nice lady made me a warm crepe filled with mountain honey, and as I strolled along the River Arve, life felt pretty perfect. Often, when I'm back home, I find myself daydreaming of this market. The scent of fresh-baked bread in the crisp mountain air takes me right back to that blissful day.
One afternoon, I took the Montveners Train up to the Mer-de-Glace glacier. This rickety-tickety cherry-red train, with its wooden benches and cornflower blue interior, is like something from a storybook. It chugs upward, over flower-strewn tracks and through stone tunnels, until it summits high above the trees. At the top, I stepped off the train to a sea of ice. From the station, a small cable car took us down into the heart of the glacier to explore the "grotte de glace" or ice caves. Walking into these rounded tunnels of ice felt like entering another planet. Sadly, the glacier is melting at rapid speed so I encourage you to go on your next visit to Chamonix – it's well worth the trek.
While the outdoor activity is rife in this region (i.e. gliding, skiing, hiking, mountain biking), re-charging is a must, thanks to all of the lovely spas in town. I logged an afternoon at The NUXE Spa in the Heliopic Hotel. The facilities are equipped with cold water wells, ice caves, a steam room and sauna, plus a tepidarium, a water wall, and a swimming pool. Fountains, fireplaces, and soft music create a total zen ambiance. It was a wonderful experience, though next time, I'd like to visit Le Bachal, the spa at the 5-star Relais & Chateaux Hotel Hameau Albert 1er.
One morning, I signed up for the hotel's "Wellbeing and Gastronomy" package, which includes a few hours of relaxation at their wellness center, followed by lunch at the property's 2 Star Michelin Restaurant, Alber 1er. I spent the morning swimming in their indoor/outdoor pool facing Mont Blanc before heading inside the elegant dining room, where I was served a beautiful 3-course meal with wine, dessert, and coffee (pretty good for 100 euros!) While we didn't stay here on our last trip, I would love to when we return. The property is gorgeous, with individual chalets and window-boxes brimming with flowers. Cozy sitting areas are situated throughout the gardens, making it a very inviting place to read and relax. After lunch, I took my coffee and sat beneath the fruit trees, serenaded by the sounds of the nearby brook.
Our visit to Chamonix was quick so we left plenty to explore on our next trip. Let me know what we missed, and in the meantime, enjoy the photos from our summer sojourn in this special place.