Castello di Sinio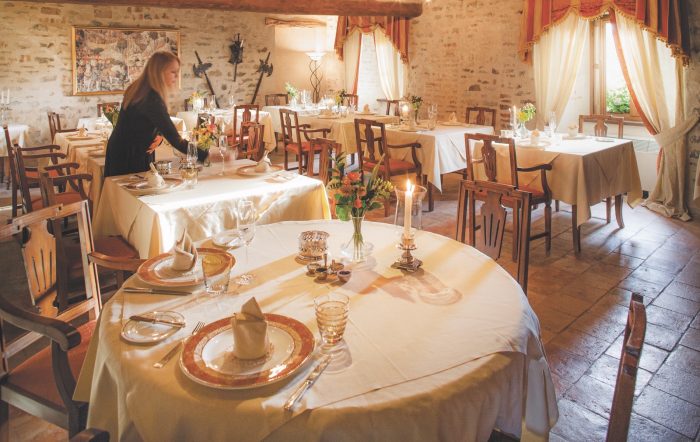 Last summer, I planned a spontaneous trip to Italy's Langhe Valley. While there, I serendipitously stumbled upon a special property called Castello di Sinio. By the end of my visit, I left not only grateful for the experience but plotting a plan for my return.
As a writer, it's always fun when assignments form from spontaneous adventure and this was no exception. I wrote about my experience traveling to the Castello in the September 2018 issue of VIE Magazine, which you can read online here.
For me, visiting Castello di Sinio was a spiritual experience. In my garden-facing suite, the stone walls were caked with history. I couldn't help but wonder who had slumbered in this exact spot over the castle's 900 year history.
Denise Pardini is the Italian-American owner of the castle, a lady who I like to call Italy's 'Secret Guardian.' In addition to owning and managing the property, Pardini is also the executive chef at the restaurant. Dinners every evening are served in what was the medieval kitchen and tables are formally dressed with crisp white linens, long white candlesticks and polished glassware. I loved that she went around the dining room and personally took every order (and recommended wine for the dishes!) before retreating to the kitchen. The article details my dining experience but suffice it to say it was one of the most romantic dinners I've had all year.
This region of Italy is well-known for its slow food movement and the people here are true artisans, taking deep pride in the local food and wine culture. Over the course of my stay, I sipped my way through countless winery tours and sampled oodles of fresh pasta, including a local specialty called tajarin – long, thin noodles crafted from egg yolk.
Though the castle is perched large and proud over Sinio's tiny town square, inside it feels quaint. This boutique feel and genuine warmth was what I liked most about the property. Driving up the paved and coiled entrance, guests are greeted by uniformed staff and a flowering courtyard garden, which Denise is also responsible for. Geraniums spill out of the window boxes while Pardini's castle cats pad around the sun-drenched grasses between naps.
There is also a swimming pool that overlooks the town's clock tower, reminding visitors here of time's swift passage.
Upon check-in, every visitor to Castello di Sinio gets Denise's custom-curated Mini Guide to the region, chock-full of insider's secrets and treasures folded in the hillsides. There are bikes to rent, chaffeurs to hire, cooking classes to partake in, and vineyards to tour, along with all of Denise's favorite small towns, local restaurants, gastronomic stores and more. It's the ultimate asset when setting out to explore the Barolo region for the first time.
As I write this, I am back in Texas, though I continue to reminisce about this special place where life slows down and each day slips away quicker than the next. I can still see the undulating hillsides grafted with grapevines. I can still feel the sunshine reflecting off the red-tiled roofs and onto my skin. I can still taste the big Barolo wines, which colored our tongues the color of plums. I can still hear the church bells tolling and the dinner bell ringing, reminding me every day to stop and listen and reflect on the things that matter most.