An Interview With Genevieve Frosch
Since I was a little girl I've had a soft spot for sweets. As I have grown up, this temptation never wavered, perhaps only getting worse, I'm afraid. Some of my favorite sugar-coated memories include popping into tiny sweet shops as a study abroad student in Florence, trying homemade lemon tarts topped with fresh berries, or biting into my first raspberry macaron in Paris. Needless to say, sweets make me happy and I love when people find ways to make them extra special. As I was scanning my Instagram feed one day I stumbled upon the most beautiful, whimsical cakes crafted by English baker, Genevieve Frosch. One of her cakes was included in a November 2016 American Vogue spread with author and Vogue writer, Plum Sykes. These are no ordinary gâteaux, mind you. Frosch has a decadent decorating flair that incorporates all kinds of delectable motifs, from fresh flower petals to sugared gum drops, wild berries, fallen leaves, jammy preserves, and stone fruits like apricots and cherries. Most all of her cakes are multi-layered and imperfect, polished and playful, the combination of which makes them utterly irresistible, in my opinion. I had the pleasure of interviewing Genevieve and loved learning more about her process – keep reading to meet the charming baker extraordinaire.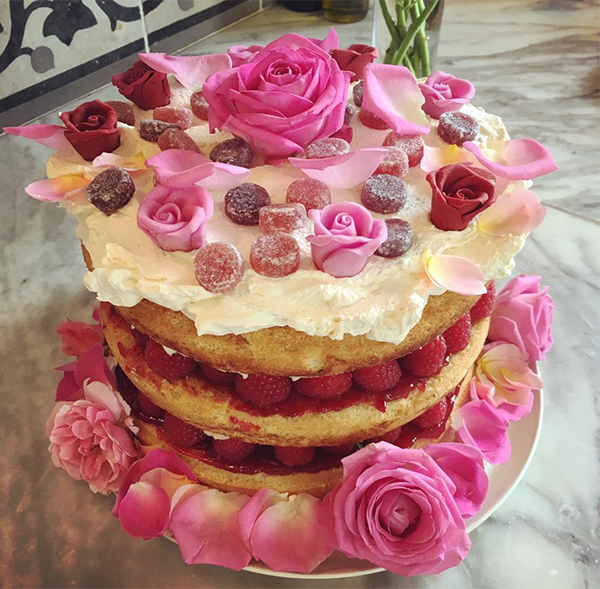 1. Tell us a little about yourself – where are you from and what do you do?
I was born and raised in Vancouver, Canada to Canadian parents. My family moved to the UK when I was 15 which is where I still live although the rest of them have now moved. I work full time either baking or as a private chef which I have done for the past 10 years. I studied painting and photography at University but have found my creative output through the food I make and the cakes I bake.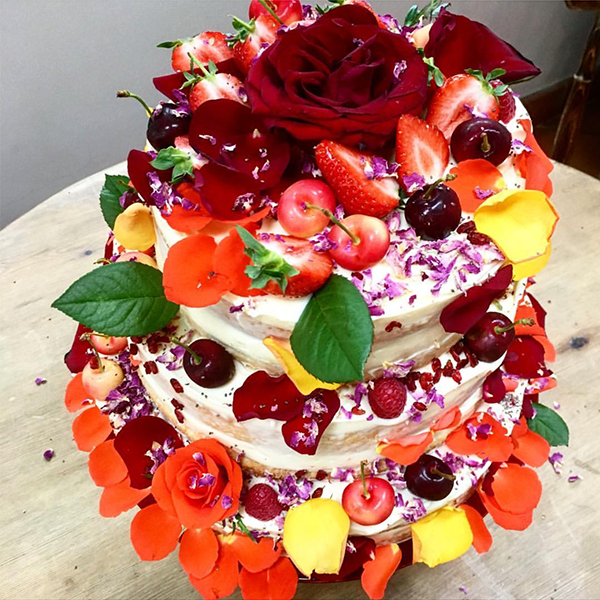 2. What was the impetus to start baking – has it always been a passion for you?
My earliest memory of baking is when I was about 6/7, I used to wake up early and was always hungry and liked cake so that combination kind of led me in the right direction. It actually always has been a passion for me and more recently I have enjoyed learning the slightly more technical aspect of it – although my favourite part is of course decorating.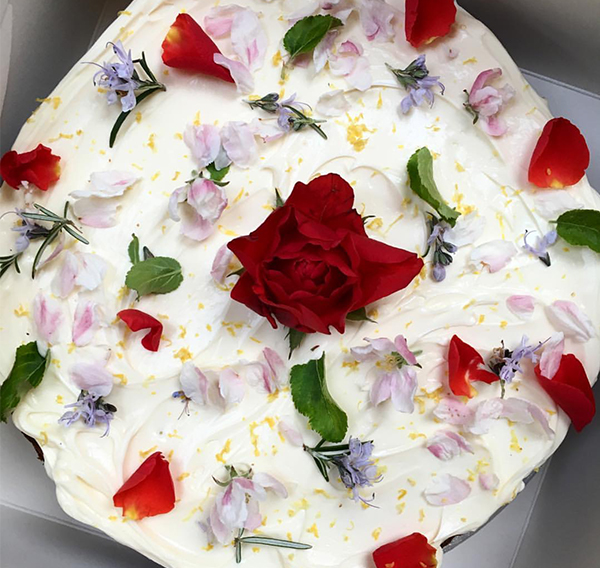 3. What do you love most about making cakes and what do you bake for most regularly?
I absolutely love the diverse requests and clients which come my way. It started off really by offering cakes as both birthday and wedding gifts to my friends and then went from there. The process is really creative – I like to pick the flowers from my own garden or the surrounding area and collect the other decorations through out the year. I would say its 50/50 weddings and other celebrations.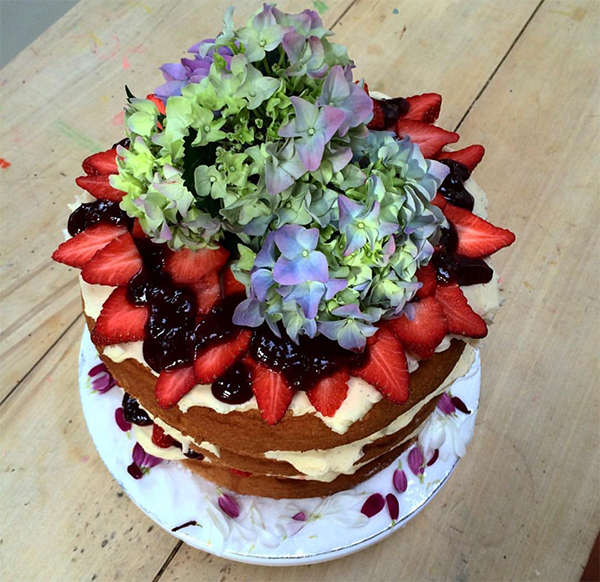 4. I first learned about you through Plum Sykes – and later – in the American Vogue spread. Share with us a little bit about how that photo shoot came to be and what it meant for you to be included.
I have worked for Plum Sykes for about 10 years as her family's cook and originally as their weekend nanny. One weekend while nannying for them I cooked I think Spaghetti Bolognese and Plum asked if I would like to cook every weekend which I definitely did.
Plum has always been very encouraging of me, pushing me in the direction of a book and helping me further my career. I cooked lunch for the photoshoot and baked this cake hoping it would make the edit which it luckily did.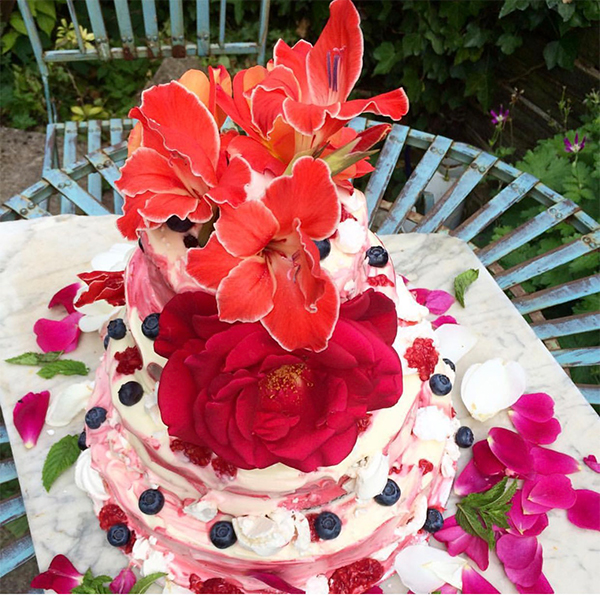 5. You have such a distinct decorating style – how do you put it all together?
I have always been obsessed with colour and pattern and my style has just evolved and grown up with me. My mom always grew lots of flowers and would put them on our cakes as kids and I guess I just naturally ran with that. I am always buying edible trinkets and get everything out when I am decorating my cakes. This might sound funny but I go into a bit of a creative trance and just sort of pick this and that according to how I feel the cake should be, sometimes running into the garden to pick a certain flower or up the road or even further a field sometimes. Practicality, time of year, and budget play a huge part, but in the end, the budget normally goes out the window – I love making people happy with cake (also applies to my cooking.)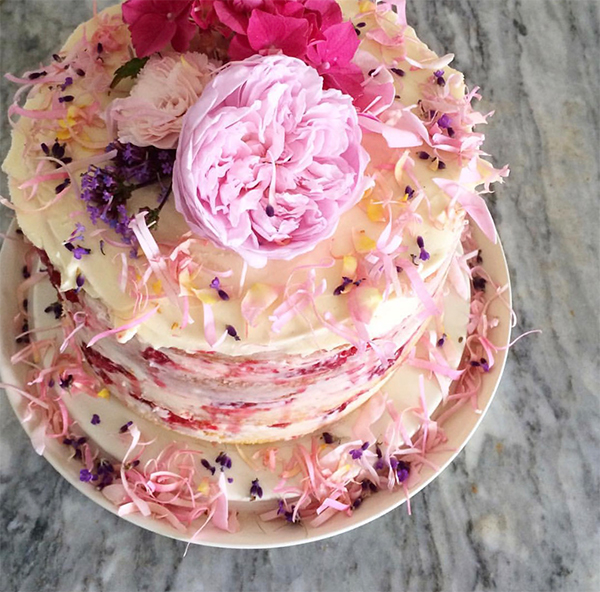 6. Do you personalize the cakes or are you given a theme to work with when working with someone or baking for a friend?
Yep – always. I like asking the colour schemes of weddings and the settings, the clients favourite flavours and colours. Simple or way over the top, inside or outside locations, and the general mood or theme. Every one seems to be different.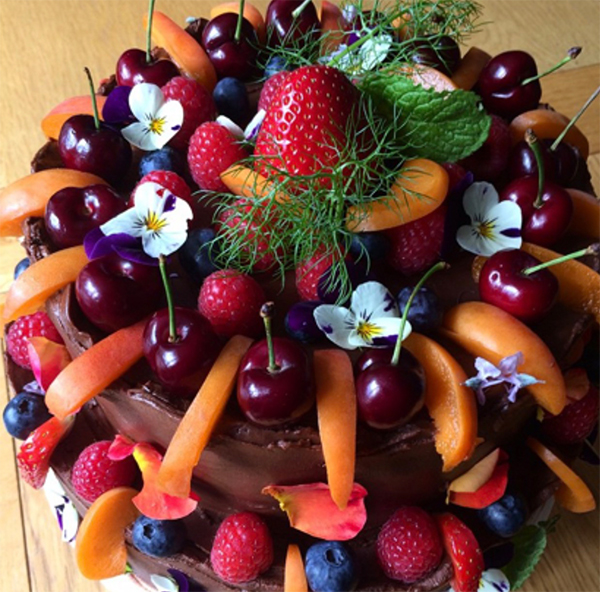 7. What is your most popular flavor combination? Of all the cakes you've made has there been a personal favourite?
There are two cakes I make time and time again. 1) Genoise sponge cake layered with dolce de lecce, raspberries and fresh whipped cream filling. 2) Kathys chocolate cake (hot water cake) with a similar filling above. I always make my own jam filings, or cream or lemon curd. It tastes so much better and you can make it a little less sweet. My favourite cake to make and then eat at home is probably a loaf tin lemon drizzle.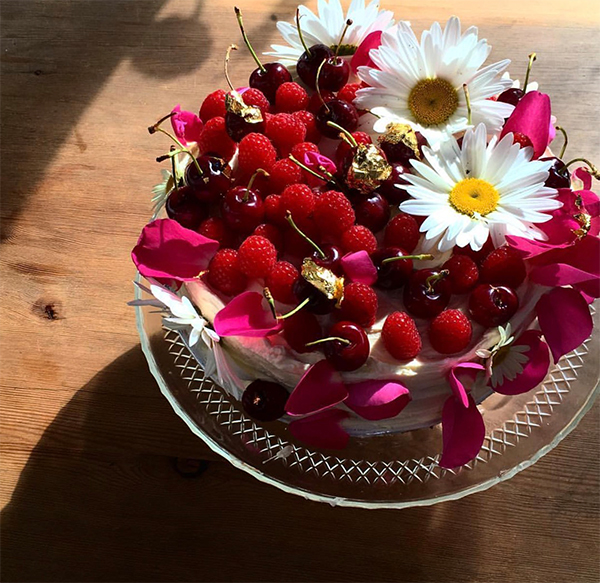 8. In 5 words or less – how would you describe your cakes?
Beautiful. Colourful. Original. Inspirational, and most importantly, Delicious (Or thats my aim. Always.)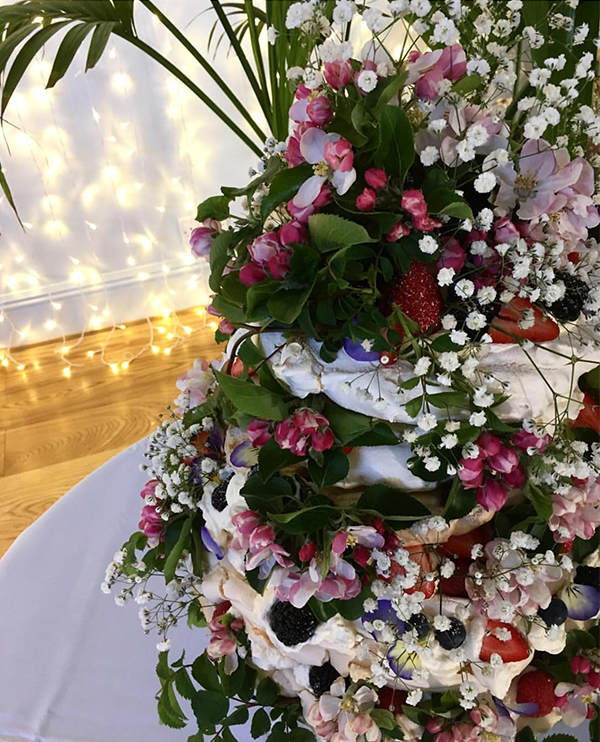 9. To end, can you share with us the best advice you've ever been given or a baking tip for novice bakers such as myself?
Baking is a technical sport – follow the recipe. Allow time, preheat the oven, use baking parchment (not sure of north american name), have the right tins ready and all the ingredients. Practice before you dive into a big project. I have too many times stayed up way too late waiting for cakes to finish baking, in fact I had an oven full of cakes while I was in labour with my son!!! so allow time, work in a clean and clear space, put your tunes on or the radio and enjoy. Prior planning and preparation = perfect performance.
Thank you Genevieve! xx