Aperol Spritz
Since my very first trip to Paris I have come to associate the city with a feeling of discovery. Every time I'm there I find something new. An oyster bar on a cobbled street, a new friend from somewhere afar, a feeling of cultural enlightenment. This depth of discovery is what brings me back to Paris time and time again.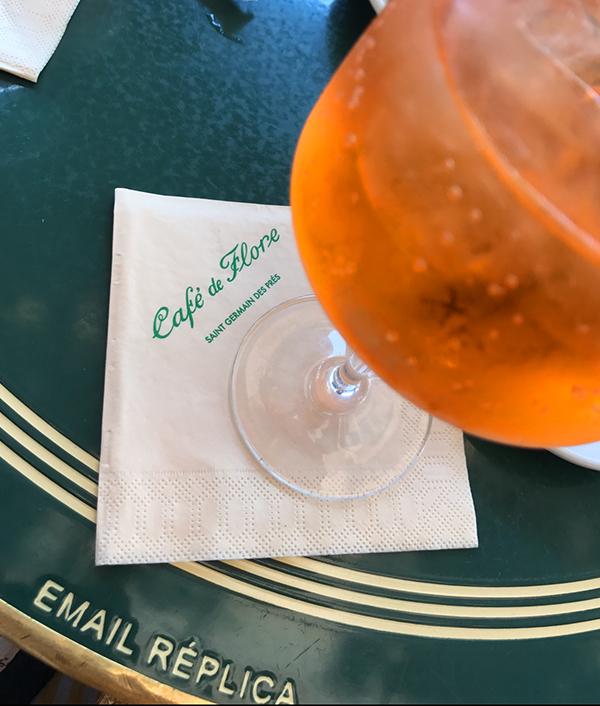 The first time I discovered an Aperol Spritz I was sitting at Cafe de Flore in St. Germain. Years before, my now-husband and I met a wonderful lady from Malibu while sipping old fashioned's in the bar of Le Meurice. Fast forward a few years later and we found ourselves sitting together with our new friend at a corner table outside of Cafe de Flore, drinking zesty Aperol Spritz's in the fading afternoon light. Since then, this drink has become my go-to summer cocktail.
Originating from Padua, Italy in the early 1900s, Aperol is a slightly bitter, herbal digestif that is known for its electric orange color. In the early 2000s, Aperol was acquired by the Campari Group, yet the recipe — a guarded blend of bitter and sweet oranges, rhubarb, vanilla, and other herbs — has never changed. In the 1950s, the recipe for an Aperol Spritz came to light and quickly turned into a cosmopolitan, international beverage of choice. With a splash of soda, prosecco, and a slice of orange, this refreshing cocktail is the perfect pick-me-up to be enjoyed on a sunny summer's day. When I partake, my mind always wanders back to Europe, with its cool breezes and warm sun, and its sidewalk cafes full of people taking their day one sip at a time.
The Aperol Spritz:
Ingredients:
Ice
1 Orange Slice Orange
3 Parts Prosecco
2 Parts Aperol
1 Splash of Soda
Instructions:
Fill a wine glass with ice, then add prosecco, aperol, and a dash of soda. Garnish with an orange slice.